Daniel Craig Injured On Spectre Set, Required Surgery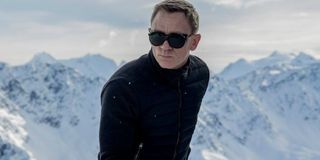 Daniel Craig is one tough trooper. Towards the start of production for the next James Bond movie, Spectre, 007 suffered a knee injury that was reportedly a sprain. Though, he kept trucking along. After all, the crew still had to shoot in various other locations with the film's November 6 release date lingering in the back of their minds. Unfortunately, it looks like the incident was more severe than we thought, as the actor recently underwent surgery to rectify the sprain.
A Spectre spokesperson confirmed to BBC that Craig had arthroscopic surgery during a scheduled break from production to repair his knee. The rep stated that he will rejoin the cast and crew on April 22 when production returns to Pinewood Studios. Though the details surrounding the incident are not entirely clear, The Mirror reports that he was filming a fight sequence in the Austrian Alps when it occurred. We learned on the set of Spectre that this location will host a major action scene involving Bond, Madeleine Swan (Lea Seydoux) and Mr. Hinx (Dave Bautista). As seen in a promotional behind-the-scenes video, Bond is wearing an all-black turtleneck and firing off rounds as black cars speed off on the snowy landscape.
Producers Michael G. Wilson and Barbara Broccoli told us they are confident in making the November release date. With such a hectic and tight schedule, however, could such an injury delay production? According to The Mirror, that doesn't seem to be the case. Their source said that Craig underwent the surgery while director Sam Mendes was filming certain scenes that didn't need his leading man. The source adds:
There's already a lot of pressure bearing down on Spectre. As its name suggests, Bond 24 will see the famed villainous counter-intelligence organization emerge from the shadows. Though it's leader, played by Christoph Waltz, is still very much in the shadows. Fans have been speculating that he will be revealed to be Blofeld, the iconic leader of SPECTRE. Waltz is clearly getting sick of this theory, as he reinforces his identity as Franz Oberhauser.
With a teaser and a few brief previews to go on, Bond lovers continue to try and fit all the puzzle pieces together. And according to Wilson, some of them are on the right track. Having already shot sequences in Austria, Rome and Mexico City, Spectre will eventually head on over to Morocco to film another major scene. We'll be sure to keep an eye on Craig to see how he fairs as the action gets a bit more intense.
Your Daily Blend of Entertainment News
Thank you for signing up to CinemaBlend. You will receive a verification email shortly.
There was a problem. Please refresh the page and try again.