Jared Leto May Play Doctor Strange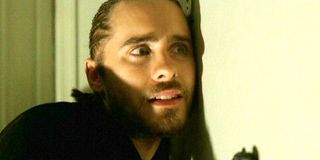 One of the most sought-after leading man gigs in Hollywood is definitely Doctor Strange. After the announcement that Scott Derrickson would direct the film, the search is on for a person who can convey the gravitas of Doctor Stephen Strange. Given that the project's been in development for years, it's not a surprise that one name has already been suggested, and allegedly remains a topic of conversation for the role. But he'll be expensive, because he just won an Oscar.
Badass Digest reports that one of the names in contention for the role is Jared Leto. Having just won the Academy Award for Dallas Buyers Club, Leto seems like he'd be a pretty hot choice for the part. He comes with prestige, and talent, but he's not going to break the bank, and this will largely be a fresh face for the audience to embrace, since Leto isn't exactly a household name. (Except in the House of Atreides!) Jared Leto captures the gravity of the part, the seriousness it would require, and still looks ridiculously well-preserved for 42. The question is, does he have the swagger of Peter Hooten, who played Dr. Strange in 1978's TV movie Dr. Strange?
The best part about this is that, because of his preservation (seriously, the guy's 42 and he looks like a college junior) is that Leto could conceivably play a younger Strange. We were all thinking differently in the mid-aughts, when Marvel cast fortysomething Robert Downey Jr. to play Iron Man as a mature, older chap. Now, you get the sense if Marvel were to start Iron Man all over again, Tony Stark would be much younger, letting the actor grow into the role as they used him up with a ten film contract.
Therein lies the rub, however. Jared Leto's always been picky with his roles, claiming his career dry spell before Dallas Buyers Club came from a lack of good material. He's not going to sign on to mediocre product, and he's not going to ink a long-term deal that necessitates his availability at random times of the year. Lest we forget, Leto is sort of a rock star, and not in the Russell Crowe in-my-free-time sort of way. Leto's Thirty Seconds To Mars has sold ten million albums worldwide, which is sort of impossible to do in the modern age, particularly given the lack of breakout singles they've had. The band has, as of April, left its perch at Virgin Records, suggesting that they're about to enter a heavy period of activity as they possibly align themselves with an independent studio. It's not exactly the perfect time for an actor to make a franchise commitment. This rumor has made the rounds for the last few days, but if there were something behind it, it's likely we'd know by now.
Your Daily Blend of Entertainment News