Batman Clings To The Joker's Speeding Car In Thrilling Suicide Squad Set Video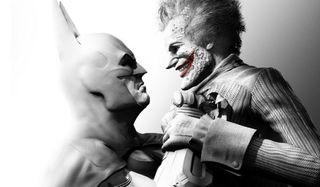 At this point, David Ayer has to not give two shits about who sees what from Suicide Squad. The filmmaker is wrapped up in production on the DC supervillain teamup for Warner Bros. on location in Toronto, and practically everything he has shot outside in view of bystanders has been leaked online through photos and video. Now, the latest reveal is perhaps the biggest reveal: Batman is, indeed, in Suicide Squad, and you can see him swing into action on top of the Joker's car.
Earlier this week, photos and videos hit the web, showing The Dark Knight chasing after Joker and Harley Quinn in the Batmobile. Now we find out what happens when he catches up with them. YouTube user Vinicius Castro posted video he took from the set where a stuntman dressed up as the Caped Crusader is positioned atop Joker's purple car as the villain and his sidekick try to lose their tail. Another onlooker, YouTube user Jay Russell, shot more footage with his phone, showing the stuntmen resetting the scene.
It's unclear at what point in the film this particular scene takes place, but based on various reports, it seems like an opening chase sequence. In Suicide Squad, Jared Leto plays The Joker and is said to sit out most of the action from behind bars in Belle Reve Penitentiary. Margot Robbie's Harley Quinn, on the other hand, takes a more prominent role as a member of Task Force X, the covert team of supervillains executing missions for the government in exchange for reduced jail time. Perhaps, then, this is one of the opening scenes that leads Joker and Quinn into the custody of Belle Reve's wardeness, Amanda Waller (Viola Davis).
Ben Affleck also is rumored make an appearance apart from his stunt double in Suicide Squad. The actor, who will first appear as Bruce Wayne in Batman v Superman: Dawn of Justice, was spotted on set earlier this month, looking like his suave billionaire self. Also said to reprise his role from BvS is Jesse Eisenberg, who plays the new and modernized Lex Luthor.
Suicide Squad also features a cast that includes Will Smith (Deadshot), Jai Courtney (Captain Boomerang), Joel Kinnaman (Rick Flagg), Adewale Akinnuoye-Agbaje (Killer Croc), Cara Delevigne (Enchantress), Adam Beach (Slipknot), Jay Hernandez (El Diablo) and Karen Fukuhara (Katana). We've already seen lots of looks at these characters from the set, but perhaps all these early leaks means there are even more substantial surprises on the way. If you think back to Captain America: The Winter Soldier, the Russo brothers had us following multiple red herrings before pulling the rug out from under us.
Suicide Squad hits theaters on August 5, 2016, and let's hope there's more than meets the eye.
Your Daily Blend of Entertainment News