Jennifer Aniston Goes To Jail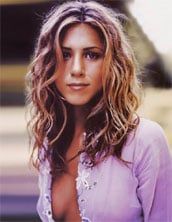 Musicals, once commonplace in cinemas, are nothing but Oscar bait these days. From Chicago to Dreamgirls, and even the most popular Disney movies, Musicals are a genre the faux-high brow can get behind, and it's the perfect genre for a Jennifer Aniston star vehicle. Playing off the Dreamgirls, Aniston is setup to produce and possibly star in the period musical Goree Girls, according to The Hollywood Reporter.
Based on a "true story" about a group of eight women serving time in Texas' Goree Prison during the 1940s, the plot follows the inmate women who formed the first all-female country western acts and captured the hearts of millions with their southern charm and jailbird antics. Of course, the women were eventually pardoned because if you can entertain millions of people, surely you can do no wrong.
"We are so happy that Jennifer Aniston has brought this project to DreamWorks Studios as a producer," DreamWorks topper Stacey Snider said. "She has an intuitive sense of what can turn a strong concept into a film, and we look forward to working with her as we bring Goree Girls to the screen."
Given Aniston's ditsy charm in the likes of Along Came Polly and Rock Star, we're with you Snider! Here's to an Oscar-nominated Aniston in 2008.
Your Daily Blend of Entertainment News