Jennifer Aniston's 'Mean Moms' Ripped Off Summer 2015 Schedule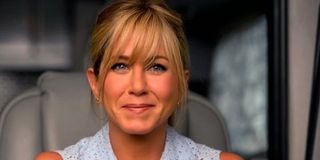 Mean Moms, we hardly knew ye. The Jennifer Aniston comedy was set to be a big New Line comedy next May, but it appears as if the studio is still fine-tuning the picture, so we'll have to wait to get our Aniston fix. The decision triggered a round of studio release date musical chairs, so this Jennifer Aniston star vehicle has fallen off, to be replaced by a Reese Witherspoon vehicle. Chaos!
Variety reports that Warner Bros. has foregone a pricey tax credit they would have received for Mean Moms, placing the project on hiatus. Filming in California would have given the mid-budgeted film a $6.7 million tax cut, provided they could be shooting by July. It doesn't look like that's the case anymore, and now the project's start date has been scuttled until a new location can be preserved. California's state film commission will now put together a lottery to find out which new projects will deserve that tax cut, which is actually pretty rare. There must have been a lot of problems with Mean Moms to lose that treasured tax cut.
Jennifer Aniston was the star of Mean Moms, which comes from the book Queen Bee Moms And Kingpin Dads penned by Rosalind Wiseman. It's something of a sequel to her Queen Bees And Wannabes, which was adapted into Mean Girls. The plot involves a nice Midwestern couple who move into a cutthroat suburb and must keep up with the Joneses. No word on whether Mean Moms was going to share some DNA with Mean Girls, though that hasn't really been a boon in the past.
This means that Mean Moms has vacated the ripe May 8th release date for next summer, where its only competition was to be (gulp) the second weekend of The Avengers: Age Of Ultron. That slot will instead be filled by another female-centric film, the currently untitled Reese Witherspoon-Sofia Vergara comedy that used to be called Don't Mess With Texas. New Line just came on as a financier for the film, which is underneath MGM's banner, and it looks like they'll be a nice shot of counterprogramming against the superheroes.
Development on Mean Moms continues, however, as the project is being rewritten by the team of Sean Anders and John Morris (Sex Drive). Television director Beth McCarthy-Miller was, and still is, set to make her feature debut on the film, which is likely looking at a third quarter 2015 release.
Your Daily Blend of Entertainment News
Thank you for signing up to CinemaBlend. You will receive a verification email shortly.
There was a problem. Please refresh the page and try again.