Jennifer Lawrence's Miracle Mop Movie Snags An Oscar-Friendly Release Date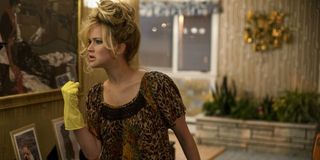 Jennifer Lawrence has lucked into a killer working relationship with David O. Russell. The two of them have collaborated on both Silver Linings Playbook and American Hustle, with Lawrence coming home with one Oscar, and one Academy Award nomination for the two team-ups. Given that these were both the two highest-grossing films of O. Russell's career, it stands to reason that he would want to re-enlist his leading lady for his latest project, Joy.
Variety reports that David O. Russell and Jennifer Lawrence are once again combining their powers to form an Oscar Voltron, this time for Joy. And Fox has enough confidence to give this film a Christmas 2015 release date, which means that in 2016, it's very likely O Russell and Lawrence will return to the Dolby Theatre in Hollywood. The movie tells the story of Joy Mangano, the entrepreneur who currently serves as president of Ingenious Designs and previously invented the Miracle Mop, an invention that changed the household items industry. If you live in absolute filth, you may not know what the Miracle Mop really is. Fortunately, these young kids have got it on lockdown.
The studio currently has a script from Annie Mumolo, the co-writer of Bridesmaids, and it's expected shooting would begin during the fourth quarter of this year. It's a rare free period for Lawrence, who typically has a crowded schedule. She'll be wrapping up her Hunger Games commitments this year by shooting The Hunger Games: Mockingjay – Part 2. Lawrence, who will soon be seen in Serena, is also expected to spend a good chunk of 2015 shooting X-Men: Apocalypse. You'd have to cancel everything for David O. Russell, however. Each of his last three movies have made more than the last, and they've netted him five Academy Award nominations in the last four years for co-writing and directing The Fighter, Silver Linings Playbook and American Hustle.
Typically, the holiday season is a crowded period, and this doesn't sound like the most thrilling material, making it sound as if Fox is showing some irrational exuberance in scheduling the film for such a competitive period. Joy opens on the same weekend as Mission: Impossible 5 and Kung Fu Panda 3, facing off against the second weekend for the (probably not gonna happen!) Dan Brown adaptation Inferno and Star Wars Episode VII: Money Hand Over Fist. Presumably Joy is a comedy, so maybe it reaches a similar demographic, but this period is only going to get more crowded in the coming months, and the little film about the inventor of the Miracle Mop could very easily get squeezed out and into the sink, where they clear out the dust and grime.
Your Daily Blend of Entertainment News
Your Daily Blend of Entertainment News
Thank you for signing up to CinemaBlend. You will receive a verification email shortly.
There was a problem. Please refresh the page and try again.