Jesse Eisenberg Makes Batman v Superman Sound A Lot Smarter Than We Expected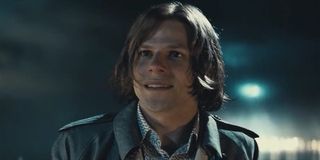 On the surface, Batman v Superman: Dawn of Justice is going be an action-packed, visually stimulating cinematic romp. Bringing the Caped Crusader and the Man of Steel together for the first time in live action, those two will not only be slugging it out with each other, but dealing with other massive threats. However, according to Jesse Eisenberg, who plays main antagonist Lex Luthor, the 2016 blockbuster will have plenty of intellectual material for moviegoers to chew on.
During an interview with Observer, Eisenberg commented on how the comic book movie genre has evolved since the days of the Christopher Reeve Superman films, which is why Batman v Superman: Dawn of Justice is focusing on important things like "geopolitcs" and power corrupting. As Eisenberg put it:
Jesse Eisenberg went on to mention that scribe Chris Terrio did an excellent job of tying in the traditional superhero elements with "really sophisticated, philosophical themes in a much smarter, different way" for the film. So while we will get plenty of Superman, Batman and Wonder Woman kicking ass and taking names, Eisenberg makes it sound like the film will take important issues and themes as well.
Following the events of Man of Steel, the DC Extended Universe is now a world where an alien with incredible power is roaming free, and although he's made it clear that he only wants to help his adopted people, that isn't stopping a significant portion of the population from distrusting him. In their eyes, they fear that he'll one day be corrupted by his power and enslave or destroy humanity with it. The two major individuals skeptical of Superman's intentions are Batman and Lex Luthor.
In Batman's case, he's seen a lot from his years of crime fighting and waging war with the worst society has to offer. However, Superman's emergence has changed the game, and with Batman already being the paranoid mess that he is, he'll take measures to ensure that the Kryptonian does no harm. As for Lex Luthor, his motivations are much more sinister. Yes, he thinks that Superman is akin to a devil that comes from the sky, but he is also a man who is more concerned with grabbing power for himself and proving he's right above anything else. So that's why he'll do whatever it takes to show that Superman is not the savior some think he is (which may include creating the monstrosity Doomsday), regardless of who gets hurt in the process.
Batman v Superman: Dawn of Justice will hit theaters on March 25, 2016.
Connoisseur of Marvel, DC, Star Wars, John Wick, MonsterVerse and Doctor Who lore. He's aware he looks like Harry Potter and Clark Kent.
Your Daily Blend of Entertainment News
Thank you for signing up to CinemaBlend. You will receive a verification email shortly.
There was a problem. Please refresh the page and try again.