Whether There's Actually More Batman In Batman V Superman, According To Zack Snyder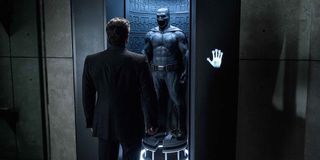 Earlier this week, it was reported that the Warner Bros. brass is so pleased with Ben Affleck's Batman in Batman v Superman: Dawn of Justice that they want him to be featured more, thus necessitating some edits to the film. While it's unconfirmed whether the post-production team truly is at work right now giving us more of the Bat, director Zack Snyder admitted that we will see more of the Caped Crusader overall in the 2016 blockbuster. However, he assures fans that it's for a good reason.
Snyder told The Daily Beast that while Batman does have slightly more screen time than Superman in the film, it's only so that they can take the time to delve into what's going on/happened in Bruce Wayne's life when we first meet him. Snyder said:
From a logical standpoint, Snyder's right. 2013's Man of Steel spent almost two-and-a-half hours establishing Clark Kent in the DC Extended Universe, from his Kryptonian parents sending him to Earth to discovering his powers to taking his first steps as a superhero. Batman, on the other hand, is being thrown straight into this universe without a primer. It could be argued that with seven live-action Batman films in less than three decades, the moviegoing audience is already familiar enough with Batman's backstory, but keep in mind that Affleck's Batman is more experienced and grizzled, having been crimefighting for over two decades. While some of the old favorites are being retread (*cough* *cough* his parents' murder *cough*), it's presumed that the film will spend more time exploring Bruce's later years and his mindset when he's introduced. Besides, like Snyder said, things will even out in the latter half of the film, giving Superman (and tertiary hero Wonder Woman) more chances to shine.
However much screen time the Dark Knight gets in Batman v Superman: Dawn of Justice, it's clear that DC has big plans in store for Affleck's Batman. In addition to the positive reception that his take on the character has earned from early viewers, there also reports of plans in motion to kick off another series of solo Batman films. On top of that, Batman is also appearing next year in Suicide Squad and will play an integral part in the Justice League movies.
We'll have to wait and see just how the time is divvied between the two heroes, though I wouldn't recommend anybody actually time it with a stop watch while in the theater…at least not on your first viewing. Batman v Superman: Dawn of Justice hits theaters on March 25, 2016.
Connoisseur of Marvel, DC, Star Wars, John Wick, MonsterVerse and Doctor Who lore. He's aware he looks like Harry Potter and Clark Kent.
Your Daily Blend of Entertainment News
Thank you for signing up to CinemaBlend. You will receive a verification email shortly.
There was a problem. Please refresh the page and try again.