John Cleese Joins Heist Comedy Hunting Elephants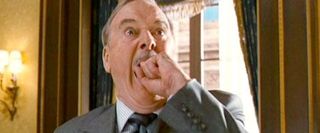 With more than 60 films appearances to his name, legendary Monty Python comedian John Cleese is not exactly choosy about his roles—how else can we explain his involvement in Charlie's Angels: Full Throttle? Nonetheless, Cleese's unique brand of humor still packs a wallop, so it's enticing to see he has joined the cast of the upcoming comedy Hunting Elephants. The film will be Israeli director Reshef Levi's follow-up to his heralded debut Lost Islands.
Hunting Elephants centers on a 12-year-old Israeli boy named Jonathan, who is dealt a cruel double-blow by fate. First his father is killed in a freak accident while working at the local bank. Then, not only does the bank deny fault, they also declare they'll repossess the boy's home. Pushed to the brink, the boy must find money fast, and so decides to rob the bank that's offended him. But he needs a team. Unfortunately for Jonathan, the only crew he has access to is three senior citizens.
THR reveals Cleese will be among them, playing an eccentric aristocrat with a bad reputation. Critically acclaimed The Band's Visit star Sasson Gabai will play the boy's curmudgeonly grandfather, and Moni Moshonov (Two Lovers) will round out the trio, taking the role of Gabai's long-time friend.
There's no word yet on when Hunting Elephants will shoot or is expected to hit theaters, but already I'm enthusiastic. It's an intriguing premise that promises a spirited adventure, and while stories that pair old men and children can sometimes be heavy on sentiment, with the irreverent Cleese and the poignant Gabai on board, I expect this comedy should easily sidestep such schmaltz.
Staff writer at CinemaBlend.
Your Daily Blend of Entertainment News
Thank you for signing up to CinemaBlend. You will receive a verification email shortly.
There was a problem. Please refresh the page and try again.