John Krasinski To Direct Anna Kendrick In The Hollars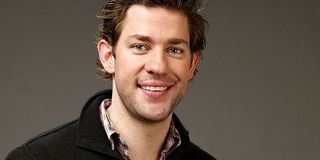 Best known for his portrayal of the snarky but lovable Jim Halpert on the American version of The Office, John Krasinski has been carving a path in film with standout roles in Away We Go and Promised Land. But for his next project, this actor will pull triple duty, producing, starring and helming the dramedy The Hollars.
Deadline reports John Krasinski has lined up The Hollars as his next directorial effort. He also fronts the feature alongside Anna Kendrick, Richard Jenkins, and Margo Martindale. The Hollars is being produced by Krasinski's production company Sunday Night. Its screenplay by Grace is Gone and Lonesome Jim writer James C. Strouse is being described as a cross between Steel Magnolias and Garden State. Intrigued?
Krasinski will star in The Hollars as John Hollar, a struggling artist who lives in New York City with his girlfriend, played by Kendrick. But when his mother (Martindale) is schedule for brain surgery, he and his lady travel back to his hometown in Middle America. There he is confronted by the life and loved ones he left behind, and all the mayhem that entails. Jenkins will play John's father. There's also said to be an "overeager ex" in the mix, though it's unknown who might fill that role. The Hollars foreign distribution rights are now for sale at Cannes.
This will mark John Krasinski's second directorial effort in feature-length cinema. He made his directorial debut in 2009 with Brief Interviews with Hideous Men, a dark comedy he adapted from the short story collection of the same name by David Foster Wallace. For that film, Krasinski pulled together a sprawling ensemble that included himself, Will Arnett, Will Forte, Max Minghella, Chris Messina, Corey Stall, Timothy Hutton, Bobby Cannavale, Rashida Jones, Ben Shenkman and Julianne Nicholson. Brief Interviews with Hideous Men made its world premiere at the Sundance Film Festival, but mostly received critical scorn. This might explain why it's taken Krasinski so long to regroup for his follow-up.
But The Hollars looks like it has more potential than its predecessor. For one thing, it is more ambitious than Brief Interviews with Hideous Men on a couple of counts. First and foremost, this appears to be an original screenplay, so Krasinski is breaking new ground rather than retreading old turf. Secondly, Brief Interviews with Hideous Men was a film made up mostly of monologues strung together through the arc of a graduate student's research. The premise of The Hollars suggests this project will be more filmic, and more emotionally complex. Lastly, Krasinski only cast himself in a supporting role in Brief Interviews with Hideous Men. In The Hollars he is the lead, and from the setup it sounds like he could be in every scene. Is he ready to take on all these new challenges? We'll see when The Hollars hits theaters, likely in 2015.
Your Daily Blend of Entertainment News
Staff writer at CinemaBlend.