Johnny Depp's Black Mass Performance Was All Wrong, According To Whitey Bulger's Lawyer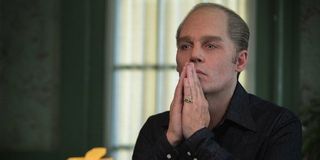 Despite people's feelings about the movie as a whole, almost across the board, Johnny Depp's performance as notorious Boston gangster James "Whitey" Bulger in Black Mass has received praise as one of his best in years. Like I said, "almost" across the board, as one person in particular has some issues with Depp's presentation, and he's in a position to know. Turns out Bulger's lawyer is no fan.
Bulger—who is still alive and incarcerated in a federal prison in Coleman, Florida, where he is serving two life sentences for a variety of crimes—has said that he has no interest in seeing the film. His defense attorney, Hank Brennan, told People Magazine:
The 86-year-old former crime boss, and renowned FBI informant, rebuffed any attempts by Johnny Depp to correspond with him or meet to do research for the role. Instead, the actor relied on archival footage in order to help him capture the essence of the man. Depp has said that he didn't want to simply play Bulger as a monster, but as a human being.
Directed by Scott Cooper (Crazy Heart, Out of the Furnace), Black Mass tells the story of Bulger's rise from low-level street hood to the feared leader of the notorious Winter Hill Gang, which controlled drugs, racketeering, and other criminal enterprises in South Boston. Part of what sets him apart from others gangsters is that his brother, Billy (played by Benedict Cumberbatch in the film), just so happened to be a Massachusetts state senator, and he was also an informant for the FBI, reporting to an agent named John Connolly (played by Joel Edgerton), who grew up idolizing the Bulger brothers. Whitey, a nickname he hated and that people wouldn't say to his face, used and abused this connection for all it was worth, wielding it like a get out of jail free card.
Despite some really good performances, especially from Johnny Depp and Joel Edgerton, one big issue many have had with Black Mass is that it falls into the same traps as many biopics that attempt to tell the story of an entire life. There's just so much to tell that many pieces feel like they are glossed over or given short shrift. Characters come and go and there isn't enough depth to the story.
Black Mass is in theaters now.
Your Daily Blend of Entertainment News
Thank you for signing up to CinemaBlend. You will receive a verification email shortly.
There was a problem. Please refresh the page and try again.