Jolene Blalock Returns To Sci-Fi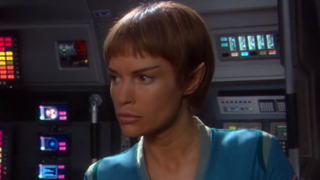 (Image credit: Paramount/ Star Trek)
It's starting to look like the only actor with any chance to escape the disaster that was 'Star Trek: Enterprise' may be Jolene Blalock. Even Scott Bakula hasn't been seen since it's cancellation. Blalock played T'Pol, the sexiest Vulcan in the galaxy on the show, and earlier this year she had a starring role in a major theatrical release (which no one saw) called Slow Burn, with LL Cool J and Ray Liota. For her next part, Jolene will return to space.
Moviehole has picked up a casting scoop from StarshipTrooper3 which says that she'll be in the upcoming second Starship Troopers sequel Starship Troopers: Marauder. She's been cast as a pilot named Lola Beck.
This may actually end up being a step backward for her though. There's a pretty good chance this thing will end up being sent straight-to-dvd rather than getting a legitimate theatrical release. Unlike the last straight-to-dvd Starship Troopers sequel though, this one does have one of the original cast in the form of Casper Van Dien… though with the state his career is in maybe that's not much of an accomplishment. Still, I'm always rooting for Jolene to succeed because, well, to be perfectly honest, she's really really hot in pointed ears. I'm a guy, we can't help ourselves.
Your Daily Blend of Entertainment News