Jonah Hill Is Making A Casino Hacking Drama About This Vegas Scandal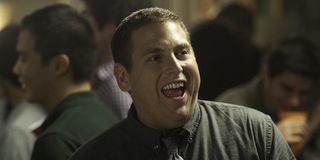 Jonah Hill has been on a rampage lately, but not just for his work in front of the camera. The multi-faceted actor has been racking up writer and producer credits on films like the upcoming animated feature Sausage Party as well as 21 Jump Street and its subsequent sequels. His latest deal will see him producing a casino hacking drama based on a story called "Finding a Vegas Poker Bug Made These Guys Rich — Then Vegas Made Them Pay."
The story originated in an article published in October 2014 in Wired magazine. Writer/director pair Andrew Mogel and Jarrad Paul, who just premiered their latest Jack Black-led comedy The D Train at Sundance, bought the rights to the article as a potential vehicle to direct. Now, according to an article in Variety, Hill (who first worked with the duo on Allen Gregory) has jumped onboard to executive produce the film through his 75 Year Plan banner, with Mogel and Paul to produce.
The true story follows two hackers who successfully found a glitch in a specific line of video poker machines that allowed them to win almost $1 million dollars before they were brought down and arrested in 2009. The pair behind the low-level but still pretty ingenious and lucrative slot machine cash-grab were an unlikely couple of scammers, John Kane a virtuoso pianist and Andrew Nestor, a man living off public assistance in a quiet suburb of Pittsburgh called Swissvale, Pennsylvania. After figuring out a bug in the coding of the Game King video poker machines, the duo, who technically weren't cheating at the casinos, pulled an endless streak of thousand+ dollar wins across Las Vegas.
Film plots revolving around jacking casinos go way back, but a few recent successful ones that come to mind are 21, starring Jim Sturgess, Kate Bosworth and Kevin Spacey and the Ocean's trilogy, starring George Clooney and the gang (which we all know made insane amounts of money). From the examples above, it's clear if this film plays its cards right, it could rake in some serious cash. Mogel and Paul have already proven they can write large, successful films, having penned the script for the 2008 Jim Carrey vehicle Yes Man. Now with Hill onboard for their latest, the stars are beginning to align. No word is out yet as to who will play Kane and Nestor, but I for one would definitely love to see Hill take on one of the roles. Unfortunately, it's probably unlikely though as it looks like he is only on to produce the film.
Jonah Hill can be seen in the upcoming film True Story releasing in May, of which he co-stars with James Franco. He is currently filming scenes for the upcoming 2016 Coen Brothers film Hail, Ceasar!.
Your Daily Blend of Entertainment News