Jonah Hill's War Dogs Trailer Is Intense And Hilarious, Watch It Now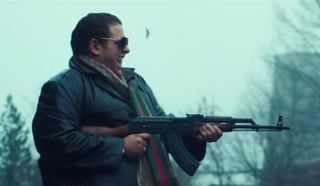 Over the course of his career, Jonah Hill has primarily been a comedic actor, though with roles in movies like Moneyball and Wolf of Wall Street, both of which earned him Academy Award nominations for Best Supporting Actor, he's also shown that he has a solid handle on the more dramatic side of things. In the new trailer for his upcoming War Dogs, Hill gets the opportunity to flex both of these muscles, as more serious, intense moments mix with the crass, sarcastic style of humor he is known for.
Jonah Hill isn't the only member of the War Dogs cast who has proven to be adept at both comedy and drama. His co-lead, Miles Teller, won acclaim for his role as a music prodigy pushed to dangerous extremes by a vicious teacher in the indie drama Whiplash, but he's also tried his hand at comedy in movies like The Awkward Moment, 21 & Over, and Project X. And the two are clearly having grand old time in this trailer, as well as finding themselves in sticky situations. I love those license plates that read "Guns" "& Ammo."
From director Todd Phillips, who helmed all three of The Hangover movies—keep you eyes peeled in this trailer for a Bradley Cooper appearance—War Dogs is based on a true story, though we'd be willing to be you could toss the word "loosely" in there as well.
The plot follows two Miami twenty-somethings played by Jonah Hill and Miles Teller. During the Iraq War, the friends use a little-known loophole that allows for small businesses to bid on contracts with the United States Military. At first they start out small, but they score big on these deals, living the high life that two pals can live when you have lots of money in Miami. As is often the case in situations like this, they get in over their head on a deal they don't fully understand—Hill's reaction to learning how low their bid was is incredible—and they land a $300 million to provide arms to the Afghan military, and lands them in a rather shady world.
War Dogs is based on a Rolling Stone article and was adapted for the screen by Stephen Chin, Jason Milovic, and Todd Phillips. The movie also stars Bradley Cooper, as noted above, and Ana de Armas, the Cuban actress who recently gave Keanu Reeves hell in the horror thriller Knock Knock.
War Dogs is scheduled for release later this year on August 19.
Your Daily Blend of Entertainment News