Josh Holloway Addresses Those Aquaman Rumors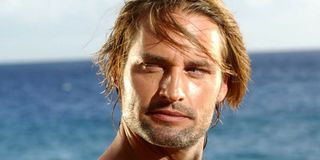 There's a delicate tiptoe one makes about superhero rumors, and actors are starting to learn it. It's flattering to be linked to a big blockbuster because it means that executives like you and they think audiences will also embrace you, usually over the course of multiple movies. That's a lot to assume. Sometimes you get tired of people within five minutes of meeting them. Imagine being stuck with them through a trilogy? You can imagine why some actors would be flustered, and/or uncertain to address being sought after for a film that may not yet even exist on the page.
Josh Holloway is just that sort of guy. The actor was something of a heartthrob while on Lost, a series where he got to explore and deepen what was first a Han Solo-ish rogue trapped on an island with much more mundane personalities. But so far, cinematic success has eluded him. Being a dance coach in Battle Of The Year and a dead agent in Mission: Impossible - Ghost Protocol did nothing for his profile, and he's found himself back on TV, leading the CBS procedural Intelligence, which is basically Chuck, but the laughs are unintentional. Recently, however, he's been linked to the role of Aquaman in that Batman/Superman film that, hell, may never ever happen. And so, it is customary to be polite when asked about a party you may be invited to, even if that party is a lot similar to that other party being held across town that seems way more put-together.
When asked about the rumors, Holloway told IGN that it would be "cool" to be considered, and that, like any actor with a pulse and a mortgage to pay, he'd certainly volunteer. He also lays down this massive caveat: "I'm in a series right now. I think they usually want to sign you up for several movies and I don't know if you can do that when you're committed to a series." Which is something that should be taken into account for all of the actors involved, given that these blockbuster shooting schedules are usually not at the mercy of broadcast series. A show is a big enough commitment: imagine balancing that out with a massive movie enterprise that randomly announces they'll be shooting within months.
But wait! Intelligence had a massive 17 million opening night audience on a Thursday night, easily the season's biggest television debut. Upon it's move to Monday, however, the ratings plummeted, to a level similar to what was being achieved by CBS' former occupant of that timeslot, that sure-to-be-cancelled Hostages. That's quite a freefall, and indicative not only that people aren't watching the show, but that people HAVE watched the show, and are never coming back again. That's rough. Perhaps Holloway's commitments won't be so strict very soon?
Of course, maybe Aquaman isn't even in the movie! Maybe Holloway is playing Batman after Ben Affleck bows out due to a mysterious leg injury! Maybe the movie is animated! There's been so many rumors and conjecture at this point that it's impossible to know what to believe. Poor Holloway probably thinks so as well: his comments acknowledge that there are many more factors at play beyond wanting to be in the movie (though he never explicitly mentions the character of Aquaman) and, ultimately, he's just waiting by the phone.
Your Daily Blend of Entertainment News
Your Daily Blend of Entertainment News
Thank you for signing up to CinemaBlend. You will receive a verification email shortly.
There was a problem. Please refresh the page and try again.