Kanye West's Yeezus Film Teases With A Fan-Made Poster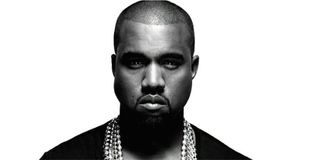 Yeezus season's approaching! Kanye West is headed into theaters with Yeezus: The Film, a chronicle of his massively ambitious multimedia Yeezus tour. West was dedicated to making a statement with his angry, confrontational new album, one that didn't even have a cover. And the tour was similarly insane and in-your-face, melding hip hop theatrics with cinematic visuals compared to the work of Alejandro Jodorowsky and Gaspar Noe. We don't know anything about this movie, but we do have a fan-made poster to clear a few things up.
Obviously, this is a mock-up, courtesy of this Instagram account, and not an officially "approved" poster advertising the film (as the above Tweet states), though it does feature a couple of credits that raise an eyebrow. The first is a "written by" credit, belonging to novelist Bret Easton Ellis. Ellis specializes in toxic, pitch-black narratives of desperation and depravity, and his American Psycho greatly inspired West during the Yeezus promotional tour. The last actual movie he wrote, however, was The Canyons, a movie that basically skinny-dipped in a pool of nihilism, hatred and contempt. So, hey, this is a family movie!
The other notable element among all this is that Kanye West, who we'd all love to see direct, has relinquished the directing reins to a massive, underrated talent: Hype Williams, the music video legend who has been West's director of choice for the last decade, having shot twenty music videos together. This mush was confirmed by Radio.com back in February. Williams' music video output is considerable: he was behind clips as diverse as the Norotious B.I.G.'s One More Chance, R. Kelly and Ronald Isley's Down Low (Nobody Has To Know), Busta Rhymes' Woo Hah!! Got You All In Check, Will Smith's Gettin' Jiggy Wit' It, Q-Tip's Vivrant Thing, Aaliyah's Rock The Boat and this untouchable classic.
Williams flirted with the film world, but the film world never flirted back: the projects he developed, including his take on Speed Racer, ultimately died in development. Which is too bad, considering his vision would have served a number of films well. His only work thus far is the hypnotic gangster film Belly, which this humble writer would honestly place alongside any of Nicolas Winding Refn's violent, hallucinatory movies. Catch the trailer below.
There's no word as to when we'll see Yeezus: The Film. And the poster has been confirmed as fan-made. So for now, just keep your ear to the pavement. Hopefully we'll have an official one-sheet on the Web soon.
Your Daily Blend of Entertainment News