Kate Beckinsale May Play Princess Magaret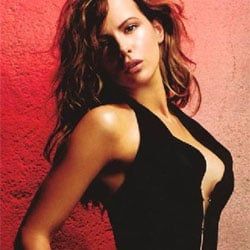 Kate Beckinsale may be from the UK, but you wouldn't know it from her IMDB page. Unlike everyone else with a British accent, since hitting it big she's mostly avoided their national obsession by being one of the few Brit actresses not to play some sort of princess or queen. That may be about to change.
OK! claims she's "lined up" to play Princess Margaret in The Princess and the Gangster, a movie about the royal's love affair with notorious gangster John Bindon. They allegedly met on a Caribbean getaway in 1968 and the press went nuts with tales of wild sex, though Princess Margaret denied meeting him.
OK! claims the movie is being written by Louis Mellis, the mind behind Ray Winstone's Sexy Beast. This story has actually been told before, in a 2009 BBC TV movie of the same name. Not surprising, given the British fixation on their royal family.
Your Daily Blend of Entertainment News