Katherine Heigl's Not Difficult To Work With, Says Katherine Heigl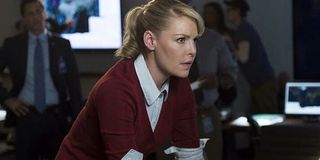 As a part of a hit series (Grey's Anatomy) and a comedy smash (Knocked Up), Katherine Heigl was once poised to be the next big thing. And for a while, she was, churning out rom-com after rom-com, from 27 Dresses to The Ugly Truth, Killers and Life as We Know It. But Heigl soon developed a bad reputation, becoming plagued by the word "difficult." But she's not! At least that's what Katherine Heigl says.
THR reports Katherine Heigl was surprised to step into some difficult questions when she took to the panels of the Television Critics Association to discuss her new drama State of Affairs. Rather than talking about the NBC series--which we should mention stars Heigl as a CIA officer who becomes an national security advisor to the president--the press in attendance were interested in Heigl and her mother/manager Nancy and their spotted reputations.
When questions turned to the Heigls' reputation for being "difficult," Katherine is said to have been visibly uncomfortable. State of Affairs showrunner Ed Bernero tried to intervene, but reporters were insistent Heigl respond, spurring Bernero to exclaim, "Wow, that was rude."
Katherine Heigl defended her past behavior saying, "I certainly don't see myself as being difficult; I would never intend to be difficult. I don't think my mother sees herself as being difficult. It's always important to everybody to conduct themselves professionally and respectfully and kindly, so if I have ever disappointed somebody, it was never intentional."
The actress previously earned bad press when she refused to put her name in for Emmy consideration for Grey's Anatomy, with claims the writers gave her nothing to perform that was Emmy worthy. Amid reports that Heigl didn't report to set when asked, rumors swirled that she'd be leaving the show. Further hurting her reputation, Heigl went on to bad mouth Knocked Up, the other project that launched her, calling it "a little sexist" in the press. She then went on to make The Ugly Truth, a movie that aggressively traffics in sexist stereotypes. But now she regrets some of those rom-coms too. Heigl said at the panel:
Katherine Heigl's star has been falling in Hollywood, with her movies earning sneers from critics and unimpressive box office totals of late. But television drama made her a star, and could well revive her career… that is, if she stops talking smack on her projects.
Heigl and her mother have a long road ahead of them in rebuilding her rep and career. One THR insider put it this way: "(Katherine)'s really determined to put everything behind her. The only way to do that is to go to work in film or television with good people, and for those people to have good things to report back. And it's not an overnight thing."
Your Daily Blend of Entertainment News
Staff writer at CinemaBlend.