Kathryn Bigelow, Todd Field Are Making Competing Bowe Bergdahl Movies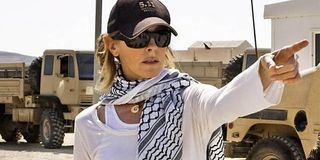 The nation has been consumed with the story of Bowe Bergdahl in recent weeks. The soldier was a POW of the Taliban for five years before he was released to the American public, though his situation was awash in controversy. And now, Bowe Bergdahl's story will be observed in two possible new movies, both by highly respected filmmakers.
Deadline reports that Kathryn Bigelow is gearing up to tell Bergdahl's story, while Fox Searchlight will be collaborating with Todd Field on a possible film about the story. Bergdahl has fascinated and riled up many, to the point where the story is still ongoing, so it will be interesting to see where the filmmakers take it. Will their films deal with his imprisonment? Perhaps they will be about the accusations that he deserted his fellow troops before being taken? Or will it deal with the media fallout, when suddenly the famous statement was amended to say, "Support Our Troops, Unless..."?
Kathryn Bigelow's project re-teams her with screenwriter Mark Boal, who previously worked with her on The Hurt Locker and Zero Dark Thirty. Clearly Bigelow has reinvented herself as a chronicler of our occupation of the Middle East, after a long and somewhat unfulfilling stint as a studio action gun for hire. She's still the genius behind Point Break, of course, but you wonder what sort of concessions she made by the time she was working with Harrison Ford on the literally and figuratively waterlogged K-19: The Widowmaker. Reportedly Boal and Bigelow have been following the story for awhile now, and the film will be made independently with the support of superproducer and all-around baller Megan Ellison.
Todd Field, meanwhile, has only directed two films, but they were the intense, Oscar-nominated In The Bedroom and the dark satire Little Children, both of which were highly acclaimed, mordant films that skirted the edge of genre. Field's film will take its inspiration from the article America's Last Prisoner Of War by Michael Hastings. That article, which was penned two years ago and can be read here, dealt mostly with the negotiations to bring Bergdahl back, which led to the American government releasing five accused Taliban soldiers from Guantanamo Bay. You can imagine how this was something that people were testy about.
Field is reportedly working on The Creed Of Violence with Christian Bale, though he's previously been linked to a diverse collection of films, including the romance Beautiful Ruins and the Cormac McCarthy adaptation Blood Meridian. Hastings, who passed away under mysterious circumstances last year, was also the inspiration for the upcoming Brad Pitt film The Operators. There are a lot of moving pieces here, in other words, but we could have competing Bowe Bergdahl movies. Kathryn Bigelow's film may be more nuts-and-bolts while Todd Field deals with the human aspect, but that's just speculation. Meanwhile, the story continues to unfold.
Your Daily Blend of Entertainment News
Thank you for signing up to CinemaBlend. You will receive a verification email shortly.
There was a problem. Please refresh the page and try again.