This Key Thor Character Will Get An Expanded Role In Thor: Ragnarok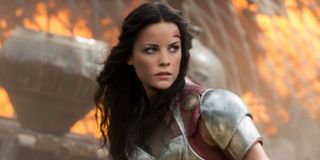 A recurring character throughout the MCU is about to get the pivotal part that she has tirelessly been working towards. Jaimie Alexander's Lady Sif was introduced as one of Thor's oldest companions and respected warriors in his the first Thor. She has always played an important role in the few films she's been in, and has even shown up on ABC's Agents of S.H.I.E.L.D. a few times. But now, Lady Sif is about to make her mark, according to the actress who portrays her.
While promoting the release of her latest TV project, Blindspot, Jaimie Alexander was prompted to share further details on her role in the upcoming threequel Thor: Ragnarok. There's has been plenty of previous teases into Lady Sif's backstory, so will we ever get the full picture? Here's what Alexander told Los Angeles Times:
There hasn't been much information exposed on the Thor: Ragnarok front. With the movie still a couple years away, most of the Marvel talk has been focused on Civil War. So far, we aren't even quite sure who will be directing the Prince of Asgard and his dutiful warriors. Apparently Marvel wants a change of pace in the franchise, and is now treating the Thor films as if they are in 'critical condition', claiming they lack the right balance with humor. While Lady Sif's character has never exactly proven to be comical, exploring her backstory, and her prior relationship with Thor, may give the franchise the boost it needs.
But while we anxiously await more news on what's to come in the third film, Alexander teased that we can find plenty of Easter eggs scattered throughout Agents of S.H.I.E.L.D., The Avengers and Captain America: Civil War. We saw some teases in the two former, but Civil War has been teased so heavily in all areas of the universe, from Ant-Man's involvement to the introduction of Spider-Man, that we're starting to get the notion that everything is going to packed to the brim in this installment.
As for Thor: Ragnarok, while we are excited to see more of Lady Sif, we are ready and waiting for our Loki questions to be answered first. Is he still on the throne? We'll find out when Thor: Ragnarok hits theaters November 3, 2017.
Your Daily Blend of Entertainment News