Kick-Ass 2 Will Shoot In September, Says Christopher Mintz-Plasse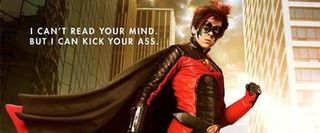 It's not often that a fan asks a question in a Comic Con panel and gets actual news, but Christopher Mintz-Plasse had a surprise in store at this morning's panel for Paranorman, when a fan stepped up to the mic and asked about the status of Kick-Ass 2. It had seemed unlikely for ages that a sequel would materialize for the comic book adaptation that grossed just $48 million when it opened in 2010, but back in May we learned the major stars were all in negotiations to return, and now Mintz-Plasse has confirmed that it's all true.
The actor who plays spoiled rich kid-turned-vigilante Red Mist said in the panel that it looked like the movie was going to happen, and that shooting would probably begin in September. That fits with what we'd been hearing about a potential start date, and confirms that Mintz-Plasse is indeed in negotiations to return, probably along with original co-stars Aaron Johnson and Chloe Moretz. Matthew Vaughn will be the only person not returning, too busy with preparations for X-Men: First Class, but Jeff Wadlow has been hired to write the new script and direct it.
Kick-Ass fans who stopped by the ParaNorman panel to see Mintz-Plasse in person were thrilled to hear the news, so how about you guys? Are you anxiously awaiting the Kick-Ass sequel that once seemed improbable? What are you hoping to see from Red Mist in the next go-around?
Your Daily Blend of Entertainment News
Staff Writer at CinemaBlend
Your Daily Blend of Entertainment News
Thank you for signing up to CinemaBlend. You will receive a verification email shortly.
There was a problem. Please refresh the page and try again.