The Kickboxer Remake Just Added Yet Another Kick-Ass Action Star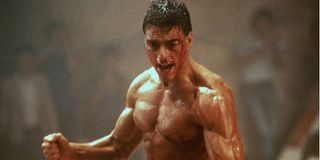 25 years ago, the original Kickboxer was the film that put Jean Claude Van Damme on the map for good. With the athletic prowess he was known for, as well as the acting talents he was starting to develop at that time, Van Damme turned what could have simply been an 80's B-movie starring someone like Chuck Norris into a film that is well regarded piece of greatness. In fact, people like it so much it has led to a modern remake that seems to be logging ass kicker after ass kicker onto its roster. As if this cast couldn't get anymore prestigious, another actor of physical prowess and noted acting abilities is joining up for a film that could practically be renamed "Team Badass" at this point.
The Hollywood Reporter has announced that Gina Carano, star of Haywire and the Fast And Furious franchise, has been added to the Kickboxer remake cast. Their report provided a brief synopsis of the project, as well as Carano's specific role in the film, which can be read below.
While the idea of Gina Carano playing just a fight promoter might not sound interesting, there's still a good chance she'll get to kick copious amounts of ass. After all, why would they bother casting her if she didn't have at least a fight or two in her? No offense to the film, but Kickboxer seems like it's going to be the sort that focuses a little more on the action as opposed to the plot. Anyone who thinks that's a negative clearly isn't a fan of these sorts of films and should shut their mouth.
In fact, it wouldn't be all that surprising if Carano's promoter was a former fighter herself. Probably retired at this point, she'll find it hard to resist sparring with some bad dudes... or even better, she could secretly be working with Dave Bautista by trying to lure our hero into getting his ass handed to him by Drax The Destroyer himself. The point is, there's as many options for Carano to kick ass as there are asses for her to kick.
Kickboxer already has the likes of Bautista, a wrestler straight out of the WWE, and George St. Pierre, who not only wowed comic audiences himself as Batroc The Leaper in Captain America: The Winter Solider but also comes from an MMA background; as well as Jean Claude Van Damme taking on the mentor role for Alain Moussi's protagonist. Adding Gina Carano to the cast simply ups the badass levels this project happens to have, and frankly it sounds like this movie is going to need a lot of insurance to get made. If this flick's still being made in 3D, you're probably going to be ducking a lot, so be prepared.
The Kickboxer remake should be released some time in 2015.
CinemaBlend's James Bond (expert). Also versed in Large Scale Aggressors, time travel, and Guillermo del Toro. He fights for The User.
Your Daily Blend of Entertainment News
Thank you for signing up to CinemaBlend. You will receive a verification email shortly.
There was a problem. Please refresh the page and try again.