Tony Jaa And Scott Adkins Join The Ass-Kickers Of Kickboxer 3D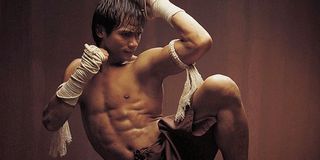 Suddenly, it's become impossible for an action nut to ignore that Kickboxer 3D is happening. The film was to star newcomer Alain Moussi, with Marvel grads Dave Bautista (Guardians Of The Galaxy) and Georges St. Pierre (Captain America: The Winter Soldier) onboard. But now, the production has gotten an unexpected infusion of badassery.
The Hollywood Reporter has revealed that Scott Adkins and Tony Jaa are joining Kickboxer 3D in unspecified roles. If you want badass toughies who will dominate the ring, you can't get two better picks than Adkins and Jaa, the fiercest onscreen fighters in the industry. Together with Moussi, Bautista and St. Pierre, that's one fierce collection of heavies.
Adkins has risen through the ranks of the direct-to-DVD world, starring in some of the better entries in the action-fighting field. He was the star of both Ninja and Ninja II from director Isaac Florentine, films that brought a strong, straightforward action approach to basic B-movie plots in a way that streamlined the thrills but showcased the fighting, something edit-heavy Hollywood is reluctant to attempt. He was also anointed Hollywood royalty when he joined the bad guys in The Expendables 2. His finest hour, however, might be the lead role in John Hyams' hallucinatory Universal Soldier: Day Of Reckoning, one of the all-time greatest action sequels. Catch Adkins destroying fools in a clip below.
Jaa, meanwhile, has utilized Muy Thai to smash skulls in Thailand with impish glee. While he's set to break through to America with the next film in the Fast And Furious series, he's been cracking skulls in a series of amazing action films like Ong Bak and The Protector. Want to see something amazing and willing to surrender four minutes to do it? Watch him dismantle a bunch of fools in one continuous shot in The Protector below.
Take a second to light a cigarette. That shit was unreal.
Kickboxer 3D is being directed by Stephen Fung, the man behind the recent steampunk martial arts films (uh-huh, yeah) Tai Chi Zero and Tai Chi Hero. Look for it in 2015.
Your Daily Blend of Entertainment News
Thank you for signing up to CinemaBlend. You will receive a verification email shortly.
There was a problem. Please refresh the page and try again.