Kingsman: The Secret Service Makes A Perfect Nod To James Bond On Its Poster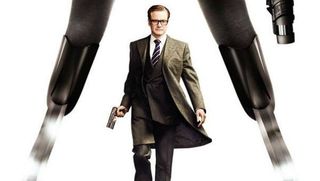 Upcoming action-spy movie, Kingsman: The Secret Service just released a new set of movie posters that have a very similar design to an old classic.
The posters highlight the main characters of the film including the crazy villain, Valentine played by Samuel L. Jackson, and the super-spy veteran, Harry Hart played by Colin Firth.
Colin Firth's character has many similarities to one of our favorite classic gentleman spies. James Bond, has influenced everything from comic books to film to music to art. And this new Matthew Vaughn movie, is no different. The Kingsman: The Secret Service movie posters are a nod to the 1981 Bond film, For Your Eyes Only movie poster.
It's no surprise that film plays homage to 007, since the graphic novel by Mark Millar has so many clear correlations to the classic James Bond films as well as other spy thrillers. Matthew Vaughn has even mentioned Bond in interviews discussing the upcoming action-packed thriller. In an interview with Entertainment Weekly, Vaughn explained his and Millar's mutual love affair with old espionage films:
The film centers on a bad-boy youth causing trouble in London, England. His uncle, played by Colin Firth is head of a secret spy organization that is out to recruit new spies. The uncle sees a sharp wit in his nephew, despite his bad-boy ways, and decides to take a chance on the kid, inducting him into the agency's training program.
Between the James Bond-like spy gear and gadgets seen in the trailer above and the impeccable we-mean-business style of the leading spies, this new film is an exciting new take on an International Intelligence Agency. Not to mention, violent comic-book-like humor is a specialty to a Vaughn and Millar team up. In a recent interview with Digital Spy, Vaugn further discussed his inspiration for the film:
And a bit crazier it is. From a lisped villain played by Samuel L. Jackson to an amputated henchwoman with knives as legs, this action thriller is bound to bring gore and grins. It hits theaters February 13th, 2015.
Your Daily Blend of Entertainment News
Your Daily Blend of Entertainment News
Thank you for signing up to CinemaBlend. You will receive a verification email shortly.
There was a problem. Please refresh the page and try again.