James Bond Meets The X-Men In Kingsman: The Secret Service Trailer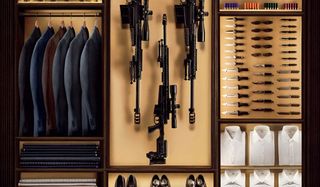 As follow-up to X-Men: First Class, writer-director and comic book aficionado Matthew Vaughn is offering up Kingsman: The Secret Service, an espionage thriller that is positively stuffed with stars. Check out the newly minted trailer to see Colin Firth, Mark Strong, Michael Cain and newcomer Taron Egerton in action. Plus Samuel L. Jackson with a lisp! Because why not.
Like all of Matthew Vaughn's directorial efforts thus far, Kingsman: The Secret Service is an adaptation, in this instance of a graphic novel by Mark Millar. Following the R-rated superhero adventure Kick-Ass, this makes the action comedy the second that Vaughn and his producing partner/co-writer Jane Goldman have produced from a Millar comic.
Formerly known as The Secret Service, Kingsman: The Secret Service centers on Gary "Eggsy" Unwin, a young man getting up to no good in London, England. However, he's got a sharp mind and some serious potential. So, he's forcibly taken under the wing of the uncle he never knew who just so happens to be one of the nation's top secret intelligence officers (Colin Firth). From there Eggsy is enlisted into the titular organization of modern knights of the realm.
As you can see in the trailer above (courtesy of Yahoo), Kingsman: The Secret Service combines James Bond-like gadgets with Vaughn's unique brand of swagger and violence-strewn humor. Speaking with Entertainment Weekly, Matthew Vaughn spoke of his inspirations and intentions for this espionage thriller, saying:
EW also provides a series of stills from the film, including the one below which has a dapper Colin Firth posed before a men's clothing store called Kingsman. Call me crazy, but I'm guessing this is a front for the titular band of spies.
They likewise give us this shot of English icon and two-time Oscar-winner Michael Caine toasting with Kingsman: The Secret Service's unlikely action hero played by Taron Egerton, who makes his feature film debut after a leading role on the UK drama series The Smoke.
And lastly, Coming Soon shares Kingsman: The Secret Service's teaser poster, which shows that these spies are men of style and considerable firepower.
Kingsman: The Secret Service will open in the U.S. on October 24th.
Your Daily Blend of Entertainment News
Staff writer at CinemaBlend.
Your Daily Blend of Entertainment News
Thank you for signing up to CinemaBlend. You will receive a verification email shortly.
There was a problem. Please refresh the page and try again.