Kodi Smit-McPhee Cast As Benvolio In The Hailee Steinfeld Romeo & Juliet Movie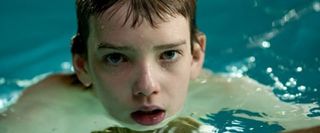 With Hailee Steinfeld set to star in a new take on Romeo & Juliet, there's a huge casting challenge in finding a male kid actor capable of holding his own opposite the recently Oscar-nominated True Grit star. They still haven't managed to find their Romeo, but for some reason director Carlo Carlei has cast one of the most promising teenage male actors in a totally different role; according to Variety Kodi Smit-McPhee, the 14-year-old known from The Road and Let Me In, will play Benvolio, the even-tempered cousin who tries to stop the feud between Romeo's cousin Mercutio and Juliet's Tybalt (Gossip Girl's Ed Westwick).
Holly Hunter is the only other actor confirmed for the film, playing Juliet's confidant The Nurse in a role that suits her perfectly. It's hard to say the same for Smit-McPhee, who will seem ridiculously overmatched against 23-year-old Westwick, and who really seems so well-suited to play Romeo-- remember how convincing he was at young romance in Let Me In?-- that I wonder if the Benvolio casting isn't somehow a kind of ruse. I'm not sure what other teenage boy they'll be able to find who can believably romance Steinfeld, but maybe they've got some unknown actor up their sleeves who's even more perfect. Shooting starts this summer in Italy, so producers-- which include screenwriter Julian Fellowes and Italian director Gabriele Muccino-- don't have a ton of time to put all the pieces together.
Staff Writer at CinemaBlend
Your Daily Blend of Entertainment News
Thank you for signing up to CinemaBlend. You will receive a verification email shortly.
There was a problem. Please refresh the page and try again.