Larry David Will Play A Nun, Mother Mengele, In The Three Stooges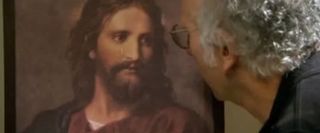 We knew he wouldn't be playing one of the Stooges, but I don't think anyone quite expected the way Peter and Bobby Farrelly would squeeze their old pal Larry David into The Three Stooges. It was reported last week that they were creating a part for the Curb Your Enthusiasm star, and now Deadline reveals that he'll be playing Mother Mengele. Yes, a nun.
He'll be working in the Catholic orphanage, right alongside Mother Superior Jane Lynch, that takes in the Stooges as young orphans. It's probably no coincidence that his Mother Mengele shares a name with the infamous Nazi doctor who performed awful experiments on concentration camp victims, though I'm not sure if even the Farrellys would make that connection that explicit. Will Sasso, Chris Diamantopoulos and Sean Hayes are set to play the adult stooges, and production on the film-- which is either a brilliant or an awful idea, and nothing in-between-- stars in May.
Staff Writer at CinemaBlend
Your Daily Blend of Entertainment News
Thank you for signing up to CinemaBlend. You will receive a verification email shortly.
There was a problem. Please refresh the page and try again.