Lars Von Trier Reveals The Plot Of His Disaster Movie Melancholia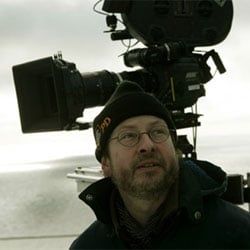 Controversial, eccentric, and generally weird film director Lars von Trier has revealed some of the plot of his upcoming film, Melancholia. Last summer, Trier invited members of the press to the film's set in Sweden where he disclosed that the plot would involve two sisters and a planet heading for Earth. Now German publication Politiken more to say concerning the story and the ideas behind Melancholia.
In particular, we now know that the disaster will not be the climax of the film as one would expect, but actually the very beginning says Trier. "In Melancholia I start with the end. Because what is interesting is not what happens but how it happens! So we begin by seeing the world being crushed, then we can tell the story afterwards. In this way you don't have to sit and form theories about what will happen, but can delve down into some other levels and become interested in the pictures and the universe – that's what I imagine."
Trier goes on to explain that the film is really about two sisters; one of them melancholic and the other more "normal." The two are played by Kirsten Dunst and Charlotte Gainsbourg. The pair respond to the coming cataclysm in different ways. "There are beautiful pictures as [the melancholic sister] is just standing there looking at the planet that comes closer and closer and accepts it. The other woman, on the other hand, becomes increasingly panicky. It could be beautiful if 'Melancholia' could become this big submission. That is why it's so awesome that the planet devours the earth. It's like no more lying on the hilltop and looking at the larks. I think the larks will go too."
This will be Trier's first film since his very controversial Antichrist in 2009. Whether or not you're fan of that one, you have to acknowledge that Trier at the very least has a unique style. It'll be interesting to see what he can do with a setup usually reserved for the Michael Bays and Roland Emmerichs of the world.
Melancholia is currently set for a May 26th, 2011 release in Denmark. International distribution will hopefully follow.
Your Daily Blend of Entertainment News
Thank you for signing up to CinemaBlend. You will receive a verification email shortly.
There was a problem. Please refresh the page and try again.