Lasse Hallstrom Adapting Another Nicholas Sparks Novel, Safe Haven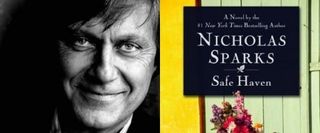 Lasse Hallstrom had a moment around the turn of the century when he seemed to be seeking acclaim as a director-- he went from directing Johnny Depp and a young Leonardo DiCaprio in What's Eating Gilbert Grape to Oscar bait like The Cider House Rules and Chocolat. In 2000 he misfired with The Shipping News and has gone in all kinds of weird directions from there, with underseen but decent movies like The Hoax but also total messes like the Heath Ledger-starring Casanova. Last year, though, he came back with a decent-sized hit-- the Amanda Seyfried and Channing Tatum-starring weepie Dear John made $114 million worldwide, despite being yet another one of those soppy Nicholas Sparks adaptations that critics can't stand.
And yet, for Hallstrom, Sparks seems to be his newfound wheelhouse, and he's adapting another one of the author's books for his next project. Deadline reports that he's in talks with Relativity Media to direct Safe Haven, a Sparks novel the company optioned last summer, about a young woman living in North Carolina and haunted by an ugly past. Yes, there's romance involved of course. The studio is looking to start shooting in the fall.
Your Daily Blend of Entertainment News
Staff Writer at CinemaBlend