Laughable Percy Jackson Promo Photos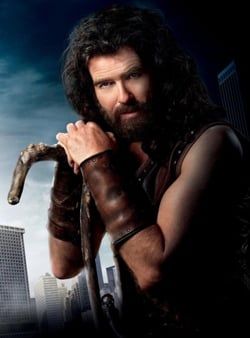 I would very much like to meet the promotional team behind Percy Jackson and the Olympians: The Lightning Thief. First their intrepid brilliance gave us posters touting "President's Day" for the film's release, and I don't know about you, but that sure does make me excited for...for, uhh... (This is when I Google 'President's Day')...February 15th...a Monday?!
Now, the same team that brought you that marketing epiphany have apparently farmed out some poster work to Mrs. Weezlebottom's fifth grade class, who are clearly working from their "My First Photoshop Tutorial" books. Armed with the burn tool, the heaviest vignettes you've ever seen, and a 400 pixel smudge brush, the class churned out these posters found at Filmofilia.
Just look at "Uma Thurman." This is just blatant laziness. I realize you're going to run into some issues with blending human flesh and snake scales, but the smudge tool is not the way to go about solving those problems. It just boggles my mind that this image made it through so many levels of approval before finding its way into the vast ocean of professional assholes such as myself. If you see the below image and don't laugh, find me in Orlando, I want to shake your hand. Please click over so you can bask in the bearded glory of Pierce Brosnan care of Jethro Tull.
Make no mistake, I'm quite excited to see this. I think the trailers look great, and Chris Columbus obviously has a knack for novel adaptations. But the marketing for Percy Jackson can only be described as 'dog-shit.'
Your Daily Blend of Entertainment News