Will Lex Luthor Wear His Warsuit In Batman V Superman?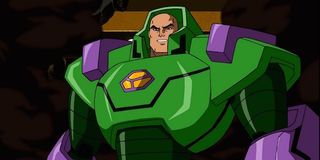 Little has been revealed about what to expect from Jesse Eisenberg's Lex Luthor in Batman V Superman: Dawn of Justice other than him being a "captain of industry" and unlike any previous incarnations of the character. And like nearly every version of Luthor, he'll hate Superman's guts. The film's title promises a fight between the Dark Knight and the Man of Steel, but as the film's main villain, Luthor is where the real danger lies. A new rumor states that the bald industrialist will jump directly into the action, and he'll do it wearing his green and purple warsuit from the comics.
Luthor intelligence has always been his primary tool against superheroes, but it looks like he will be gearing up in the same battle armor that he's worn in the comics and other media projects for decades, according to JoBlo. Apparently retaining its trademark colors, the suit will look like variations seen in the past while also being adapted to fit the film's look and style. It's unclear how he will either obtain or build the suit (though the article does theorize that it may originate from Kryptonian technology retrieved after Man of Steel), but he will wear it for at least part of the film. If this is true, that means we could see an actual physical showdown between him and Superman. Combined with this past weekend's rumor of Doomsday showing up as well, it sounds like the Man of Steel won't be lacking for physical threats.
While Luthor has always been one of the most intelligent villains from the DC universe, he has gotten his hands dirty on many occasions, with his battle suit being one of his favorite weapons. The suit made its first appearance in Action Comics #544 in 1983, and, outside of the comics, Luthor wore it in animated projects like Superman/Batman: Public Enemies (as seen above) and video games like Injustice: Gods Among Us. The suit's many capabilities include super strength, flight, and shooting various types of Kryptonite energy blasts. This would be the second piece of high-tech armor appearing in Batman V Superman: Dawn of Justice, the first being Batman's Dark Knight Returns-style armor that he'll use against Superman.
Luthor is bad enough when he's putting his intellect to work to secure resources and manipulate events from behind the scenes, but when he's putting his strategic mind to work out in the field wearing that warsuit, he's even more dangerous. Assuming the warsuit is still functional and hasn't been ripped apart by Superman at the end of the film, it would be cool if Lex wore it for his rumored Suicide Squad appearance. If he has to personally throw down against anyone, be they hero or villain, this is his best chance at coming out on top.
You can see Lex Luthor causing trouble for the titular heroes when Batman V Superman: Dawn of Justice is released on March 25, 2016.
Connoisseur of Marvel, DC, Star Wars, John Wick, MonsterVerse and Doctor Who lore. He's aware he looks like Harry Potter and Clark Kent.
Your Daily Blend of Entertainment News
Thank you for signing up to CinemaBlend. You will receive a verification email shortly.
There was a problem. Please refresh the page and try again.