Liam Gallagher Wants To Make An Oasis Biopic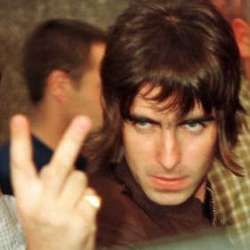 For the most part, the guys from Oasis (or at least Liam and Noel Gallagher, I don't know about the other guys) are pompous dicks who thought, and probably still think, they were God's gift to music. It's only right then that Liam would want to make a movie about his time in the band. He's the kind of guy who'd just assume everyone would want to know about the tumultuous years with a truly self-obsessed band. In an interview on the website for his own clothing label Pretty Green (you read that right, he had someone interview him for his own site), Gallagher said an Oasis movie could be coming soon.
Currently, Gallagher is working on The Longest Cocktail Party, a movie adaptation of Richard DiLello's memoir about his time at The Beatles' Apple Studios. Gallagher isn't planning on using any Beatles music in the flick (why would he?) because he is writing the soundtrack with his new band Beady Eye.
An Oasis biopic, while self-absorbed and probably self-congratulating, would actually end up being a fairly interesting watch. It could include the time Liam got hopped on crystal meth and beat up Noel with a tambourine on stage. Or could detail Oasis's MTV Unplugged performance where Liam opted out of performing and instead heckled the band from a balcony during the set. You know what? The more I think about it, the more I want to see it. Maybe they'll even explain what the hell "Champagne Supernova" means.
Your Daily Blend of Entertainment News
Doug began writing for CinemaBlend back when Terminator: The Sarah Connor Chronicles actually existed. Since then he's been writing This Rotten Week, predicting RottenTomatoes scores for movies you don't even remember for the better part of a decade. He can be found re-watching The Office for the infinity time.