Lily James Took Her Zombie Killing A Little Too Far On The Pride & Prejudice Set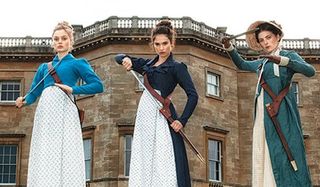 When you're stuck in a Jane Austen novel and zombies are coming at you from every angle, you don't have time to figure out what's what. This was particularly true for Lily James. The Cinderella actress stars in the upcoming adaptation of Pride & Prejudice & Zombies, and when she hit the Hall H stage for San Diego Comic-Con, she revealed the one on-set story that had all her co-stars beat. Watch the video below.
Earlier in the panel, the studio screened the first footage of the film, featuring James and her co-stars Douglas Booth (Jupiter Ascending), Matt Smith (Terminator Genisys), Jack Huston (Boardwalk Empire), Sam Riley (Maleficent) and Bella Heathcote (Dark Shadows). In one particular scene we see James' Elizabeth Bennett slicing and dicing a zombie before stomping its skull in with her foot. When she practiced one of these moments on the set, though, things took a turn for the worse.
As she explained, she didn't realize the zombie corpse at her feet was an actual person, instead of a prop. So when the time came, she plunged her foot down on the extra's head. Of course, it was totally by accident and he's going to be okay. Her co-stars joked that he asked for her number directly afterwards and that he was paid a bit more than the others.
Pride & Prejudice & Zombies is based on the novel by Seth Grahame-Smith, who also was present in Hall H with director Burr Steers. The film takes the beloved world of Jane Austen's Pride & Prejudice and pits it against a new challenge: zombies. Instead of being masters of the household and manners, the Bennett sisters were raised to be deadly weapons, which certainly comes in handy when the zombie pandemic comes into town. But, as Lily James says, "nothing is easy to do in a corset." She continued to say that the "inner conflict and sexual frustration and longing comes out in decapitating zombies." According to Heathcote, the actors went through months of training in martial arts, including kung fu, as well as additional weapons training and choreography. So by the time James bashed an extra's head in with her foot, she was becoming a deadly killing machine.
Those in attendance saw a lot of the film, including explosions, hacking and slashing, and blood and guts. For Smith, the most important thing was for to go through the entire film without giving a single wink to the audience. "Everyone is acting as earnestly as they would in a Pride & Prejudice movie," he said.
Pride & Prejudice & Zombies hits theaters on February 5, 2016.
Your Daily Blend of Entertainment News
Thank you for signing up to CinemaBlend. You will receive a verification email shortly.
There was a problem. Please refresh the page and try again.