Lincoln Lawyer Was A Hit Thanks To Groupon, And It Won't Be The Last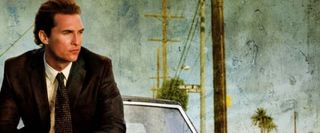 When this past weekend's fairly uneventful box office is reported in the future, The Lincoln Lawyer's spot at #4 may come with an asterisk attached. To promote the film Lionsgate teamed up with the social discount site Groupon to sell $6 tickets to The Lincoln Lawyer, a deal that 190,000 people took advantage of; of the 40,000 people who actually showed up to redeem the tickets, 89% of them said they wouldn't have seen the movie otherwise. That's a lot of extra eyeballs gained through a service that usually offers discounted pedicures.
As explained in some really interesting numbers-crunching done at IndieWire, all those discounted tickets likely resulted in no extra cash for Lionsgate-- they lose money when factoring in the shares given to both Groupon and the exhibitors. But the extra ticket buyers inflate The Lincoln Lawyer's spot in the top 10, making it look like more of a hit, and also those people who got discounted tickets are likely to recommend the movie to friends, who would come back and pay full price. The way Groupon's president Rob Solomon puts it, it's not so much that they're selling tickets, but advertising the film to their millions of subscribers:
It's easy to obsess over the box office rankings and think that the Groupon deal is inspiring a kind of fraud. But I think it's far more interesting to realize that the same service enticing people with coupons to restaurants they might not visit otherwise could re-ignite interest in moviegoing among the precise young people who seem to have stopped going. The Lincoln Lawyer was the first film to try out this tactic, but from the looks of it, it certainly won't be the last.
Your Daily Blend of Entertainment News
Staff Writer at CinemaBlend