Little Miss Sunshine Directors Set For Argo-Esque Drama The Big Cigar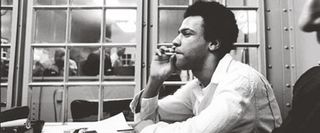 The success of Argo this fall has exposed a rich vein of potential stories for the movies, in secret missions that once were classified but are finally available for public consumption. It turns out that, no matter how much we may imagine their exploits in fiction, real-life CIA agents often go on missions that are even bolder and more entertaining. Now another once-secret mission-- though not one involving the CIA-- is gearing up for its Hollywood treatment, and two directors have signed on to make it happen.
Valerie Faris and Jonathan Dayton, who became famous for LIttle Miss Sunshine and returned this summer with the comedy Ruby Sparks, are now attached to The Big Cigar, an adaptation of a Playboy Magazine article about an effort to smuggle Black Panthers co-founder Huey Newton out of the United States and into Cuba to avoid prosecution for murder. According to Deadline the project is being set up at Sony with producer Matt Tolmach, who recently made The Amazing Spider-Man for the studio-- likely an example of making a big populist movie that earns a ton of cash, and using that capital to invest in something smaller, darker, and for grown-ups.
To make the Argo connection even clearer, the film is based on an article by Joshuah Bearman, who also wrote the Wired article that inspired Argo. The Huey Newton story also has a Hollywood connection, with Easy Rider producer Bert Schneider helping make the mission possible, but it's also a little darker and more morally complex than "rescue American hostages." It could be an interesting turn for Dayton and Faris, but those two have also been known to take their time with projects or drop them entirely, so I won't assume this is a done deal until they actually step on set.
Staff Writer at CinemaBlend
Your Daily Blend of Entertainment News
Thank you for signing up to CinemaBlend. You will receive a verification email shortly.
There was a problem. Please refresh the page and try again.