Ryan Gosling May Join Beauty And The Beast, Get The Latest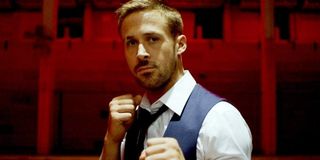 Maleficent had Pirates 5 star Brenton Thwaites. Cinderella has Game of Thrones hottie Richard Madden. So who is Beauty and the Beast going to get to play its Prince Charming? Disney already secured Harry Potter's Emma Watson as Belle for the live-action adaptation, and the latest rumor on the street suggests that the apple of every woman's eye, Ryan Gosling, the meme man himself, is eyed for the role.
We advise taking this report with a grain of salt (or seven). It comes from the Tracking Board, which doesn't have the best track record with scoops. Remember that time they said that we'd be getting a Hocus Pocus sequel with Tina Fey? However, they got part of that story right: Fey is working on a new witchy movie, but it's not a sequel to the Bette Midler classic. Keeping that in mind, though, the outlet now reports that they have obtained exclusive information that says Ryan Gosling is up for the part of the Beast himself. According to the report, he's Disney's top choice for the role, and was even offered the part. But again, this remains unconfirmed at this time. Still, can you imagine the reaction on Belle's face to find that the hairy monster she fell in love with is actually Ryan f'ing Gosling?
So far, no other casting has been revealed at this time, and Watson is the only name officially attached to a role. Bill Condon, who helmed Twilight's two-part Breaking Dawn and Dreamgirls, is on board to direct. While Disney would only go as far to say that Beauty and the Beast would be a "live-action interpretation," we know that there will indeed be singing involved. When Emma Watson went on Facebook to announce to her fans that she would be taking the role of Belle, she that she'll "get to dance to 'Be Our Guest' and sing 'Something There,'" before she stated, "Time to start some singing lessons."
Should this casting prove to be true and Gosling has to belt a few musical numbers, he does have at least some musical experience. He sang "You Always Hurt the One You Love" to Michelle Williams in Blue Valentine, and his lil' tyke self was a member of The Mickey Mouse Club. There's even footage of him belting "When a Man Loves a Woman" back in 1991. Can you imagine how many people will swoon over him if he actually becomes a Disney prince?
The last time we saw Ryan Gosling in a film was in 2013's Only God Forgives and Gangster Squad. Lately, though, he's been making headlines for his directorial debut with Lost River, and, of course, is newborn baby girl with wife Eva Mendes. Perhaps a Disney movie will make women forget for a split second that he's off the market.
Your Daily Blend of Entertainment News