Lois Lane Gets A Spin-Off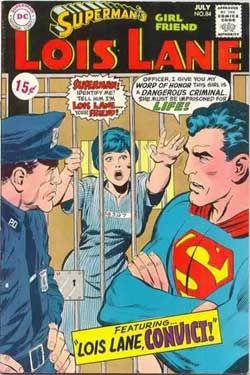 Whether or not Superman Returns will get a sequel is still in doubt, but the movie may get a spin-off. Weird I know, but our friends over at Moviehole are running a story they say they picked up from Sky News in which they claim a Lois Lane movie is in the works.
The interview, which I haven't actually been able to find over on Sky News yet myself, supposedly has Bosworth talking about her character's new arc for Superman Returns movie two. "Lois will be back bigger and better in the next movie, and with more of her own storyline," she says.
The news of a Lois Lane spin-off though, comes from the reporter interviewing her, not Kate Bosworth. Neal Sean says that there are plans to give her an investigation spin-off.
The idea of giving Lois her own movie isn't so farfetched. After all, the character did have her own comic. Still, the whole thing seems pretty suspicious. As far as I can tell, the interview doesn't even exist, but I trust Clint implicitly and if he said he saw it then he absolutely did. However, if Sean doesn't offer any evidence to support his claim, then it's nothing but a reporter's wild fantasy until we hear more. Let's get an actual Superman Returns sequel confirmed, then we can start talking spin-offs.