Lovelace Will Head To Blu-ray And DVD In November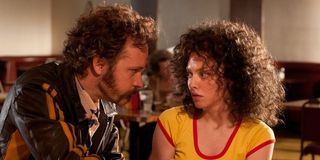 If you are the type of person who pays attention to the movies, you've probably been hearing plenty about Amanda Seyfried taking on the role of famous porn star Linda Lovelace during a period spanning from her early adult life at age twenty into her thirties. The movie notoriously went through a slew of actresses before landing Seyfried for the gig, and even after the project nabbed a large ensemble cast chock full of famous names, it still only got a very limited release. In general, people have had to seek out the film to get a chance to see it. While it's currently available to rent on outlets like Amazon Instant Video, Anchor Bay Home Entertainment and RADiUS-TWC are bringing Lovelace to Blu-ray and DVD on November 5.
Lovelace tells the tale of the 1972 making of the famed porn film Deep Throat, which has lived on through history via the Watergate scandal. Although Deep Throat serves as a focal point in the film, it's mostly about the life of Linda Lovelace, how she rose from humble beginnings, changed her name, and became a focal point for the feminist movement in the seventies. The famous lady would later discount her experiences and battle against the porn lifestyle her abusive partner forced her into, but none of that ever erased her legacy or place in popular culture. Instead, it only made them more complicated.
Because Lovelace is all about Seyfried's character, it's no surprise that the actress is the main attraction within Anchor Bay Home Entertainment's packaging. She's not the only high-profile actor in the film, however. Peter Saarsgard, Adam Brody, Sharon Stone, James Franco, Chloe Sevigny, Robert Patrick, Juno Temple, Bobby Cannavale, Wes Bentley and more star in the film. You can check out the official U.S. trailer, below.
Anchor Bay Home Entertainment is not typically a studio that's big on putting together extensive bonus features for sets. Additionally, Lovelace was produced on a pretty small budget, so it's not the type of film that would typically come with a ton of extras, anyway. According to press release, the film will come with a "Making of" featurette that is being described by the studio as "in-depth." I'll believe it when I see it. I really wish we could have seen Sarah Jessica Parker's scenes that were cut from the film at the last minute, but you can't have everything. Still, the film's Blu-ray release only lists at $29.99, so if you are wanting to own the flick rather than simply rent it, it's not going to cost you too much.
Your Daily Blend of Entertainment News
Reality TV fan with a pinch of Disney fairy dust thrown in. Theme park junkie. If you've created a rom-com I've probably watched it.