Lucy 2 Is Defintely Happening, Will Scarlett Johansson Return?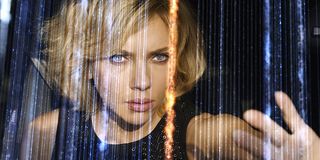 Last year, despite minimal fanfare, Luc Besson's imaginative spin on femme-fatale ass-kickery, Lucy became a $458 million global sensation. Yet, those imaginative events in the film also seemingly rendered it a one-and-done affair. However, a recent presentation from Besson's production company reveals that a sequel is, indeed, in the works.
At the CineEurope convention in Barcelona, Spain, the presentation for Besson's Paris-based EuropaCorp unveiled a number of their upcoming titles. However, in a rather understated, but nevertheless intriguing final side-note, a Lucy sequel was reportedly revealed to be part of that cinematic lineup. That, unfortunately was the extent of the revelation, with the tide of speculation now left adrift, wondering if star Scarlett Johansson will be returning for the fantastical follow-up.
While Besson was not on hand to further expound on the exciting admission, it does come to represent no less than a complete 180 degree turn from his on-the-record opinion regarding a prospective Lucy sequel. As Besson told THR last year:
Of course, Besson's views on the matter reflected how things played out in the movie. Spoilers from here on out, if you haven't seen Lucy. The film saw Johansson's reluctant drug mule, Lucy gain extraordinary physical and cognitive abilities after a supply of an experimental drug surgically stashed in her body became ruptured. Throughout the course of the film, her abilities expand exponentially, as she dispatched the film's array of wretched gangsters with ease, evolving to a point where her command of space and time had her essentially ascended to a virtual god of sorts. In the end of the film, she has little need for her fetching corporeal vessel (what a waste) and embeds her newly-ubiquitous essence into the very fabric of the universe, itself.
Thus, as Besson previously intimated, a sequel would seemingly make little sense. With the protagonist having become a formless entity of sorts, it might be a bit bizarre and ham-handed for the franchise to come back to the well, having Lucy save the world by the rudimentary means of being reconstituted once again as a sexy femme-fatale to decimate legions of armed ne'er-do-wells with cosmic karate. Yet, with the sequel confirmed by Besson's company, we just might expect such a premise, seeing as it's the only one that's feasibly workable without taking a dramatic detour into the arena of hard science-fiction; a tone shift that might be problematic for a sequel to a film that marketed itself successfully as an action vehicle.
Certainly, a prospective return by Scarlett Johansson would help the Lucy sequel's chances as far as marketability and continuity. However, it's possible that she may not want to risk typecasting herself as a generic go-to femme fatale type. This is especially relevant seeing as she continues to play Black Widow in the vast array of Avengers-connected Marvel movies, with no end currently in sight and will soon round the action-centric anime adaptation, Ghost in the Shell. Whether or not an encore performance as the drug-mule-turned-deity lines up with her continuing career vision remains to be seen.
Your Daily Blend of Entertainment News
Thank you for signing up to CinemaBlend. You will receive a verification email shortly.
There was a problem. Please refresh the page and try again.