Mad Max 4: Fury Road Test-Screened: What Did Attendees Think?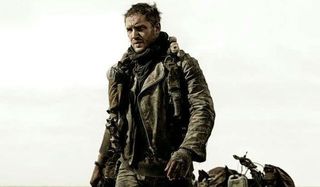 It's been a long hard--uh--road, but Mad Max: Fury Road is finally making its way to theaters in 2015. In the meantime, Warner Bros. is getting a feel for what works with its would-be audience through test screenings. One of these went down last night in Los Angeles, and was promptly leaked on Twitter.
Lots of tweets concerning Mad Max: Fury Road last night were of the "why wasn't I there" variety.
Only a couple actually commented on what they saw. And they kept their responses strangely vague.
However, AFT (via The Film Stage) has not a "not review" of Mad Max: Fury Road, unearthing some actual details about the movie. First off, the not-review's author, Randy, is insisting this can't be considered a real review as the film is nowhere close to finished. In its first screening, Mad Max: Fury Road runs just over two hours, but has not had sound effects, music or visual effects added yet. But all this aside, how is it?
Randy, who identifies himself as a "HUGE Mad Max fan," writes:
Even in its extremely rough form, Randy promises Mad Max fans that the latest and long-awaited edition to the franchise offers loads of "groovy cars," auto combat, plus practical effects and stunts so mind-blowing that "I wonder how many on the stunt team died making this madness?!"
He also rained praise on Mad Max: Fury Road's stars, Tom Hardy (Max), Charlize Theron (Imperator Furiosa), Nicholas Hoult (Nux) and Hugh Keays-Byrne (Immortan Joe). And while Randy suspects old-school Mad Max fans will rally around the new film, he believes its story is accessible enough that those new to the franchise can easily jump in and get engaged.
Mad Max: Fury Road will hit theaters on May 15, 2015.
Your Daily Blend of Entertainment News
Staff writer at CinemaBlend.