New Mad Max Trailer Is Explosive And Totally Insane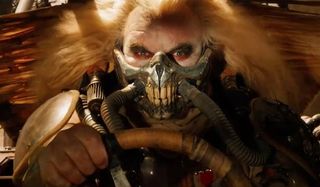 Everything we've seen so far from the new Mad Max: Fury Road makes this film look like one crazy ride. The new trailer, though brief, is no different. Tom Hardy heads into the eye of a fiery, sandy storm the likes of which The Mummy could only hope of conjuring. Check it out in all its glory.
"Everyone's gone out of their mind." That is the understatement of the year.
Much like the extended Mad Max trailer we saw, this new look at the highly anticipated installment is like a more condensed version. Hailing from Warner Bros.' international marketing division, it takes some of the most intense parts and infuses it with new footage and the dramatic theme of Verdi's Requiem. We weren't expecting these 60 seconds of trailer goodness to get us so pumped for something that is still a few months away. Then, we witnessed this:
Tom Hardy assumes the role made famous by Mel Gibson in the original trilogy, and by the sounds of the story, no wonder everyone is losing their shit. As Mad Max is roaming around as a wandering ronin of sorts, he encounters a caravan riding through the Wasteland to escape the tyranny of an enraged warlord. Of course, one does not merely escape a warlord, so an epic "road war" soon follows that, we presume, culminates in this incredible moment.
We also get a better look at "The Wives," collectively played by Divergent's Zoe Kravitz, Magic Mike's Riley Keough, Transformers' Rosie Huntington-Whiteley, supermodel Abbey Lee and newcomer actress Courtney Eaton. They are the troupe of women wandering the desert with Charlize Theron, who tells them, "out here everything hurts. Now pick up what you can and run."
Mad Max: Fury Road has been in the works for a long time, and we're thrilled that it already looks so badass and off-the-wall crazy. Much as the female cast of the new Ghostbusters hopes to revitalize the franchise, so too is Mad Max looking to resonate with the younger generations. We haven't seen a Mad Max film since 1985 with Beyond Thunderdome, but Warner Bros. has been marketing this film exceptionally well with the trailers and a new video game that launched in December. Pretty soon everyone will remember the name.
Your Daily Blend of Entertainment News