Maggie Smith Fighting To Stagger Through The Last Harry Potter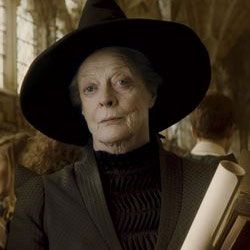 Dame Maggie Smith has been one of the few certainties among the adult cast members of the Harry Potter franchise. Though her part in each film is small, she's always there, warm and comforting. She's safe. She's like a security blanket the kids can wrap themselves in, the one professor who you can feel certain won't suddenly be played by a different actor or become wrapped up in an evil plot kill the boy who lived.
But Maggie isn't a young woman, and now, well into her 70s it seems health problems are starting to take their toll. In fact in 2007 she was diagnosed with breast cancer, and in an interview with The Times newspaper she revealed that it may be a struggle to make it through the final film. She says, "If there's work to do I'll do it. I've still got to stagger through the last 'Harry Potter'. The cancer was hideous. It takes the wind out of your sails and I don't know what the future holds, if anything." She sounds pretty bleak but she actually managed to make it through the last movie Harry Potter and the Half Blood Prince while smack dab in the middle of chemotherapy. "I was hairless. I had no problem getting the wig on. I was like a boiled egg. The chemotherapy made me feel horribly sick. I was holding onto railings, thinking, 'I can't do this.'"
Despite her bleak outlook on the future, Maggie Smith is a bad ass and a fighter. It sounds like she's on the upswing: "You feel so ghastly, you wouldn't mind dying a lot of the time. The last couple of years have been a write-off, though I'm beginning to feel like a person now. My energy is coming back. S**t happens. I ought to pull myself together a bit." Still it may be a lucky thing that her role in most of the films has been so limited.
The last movie, Harry Potter and the Deathly Hallows started shooting earlier this year. There's plenty of time to work Professor McGonagall whenever Maggie feels up to it and she sounds like she'd rather get it over with sooner rather than later. But seriously, screw Harry Potter. There are more important things than whether McGonagall is on screen for Harry Potter's final moments. Get well Maggie Smith.
Your Daily Blend of Entertainment News