Magic Mike XXL Shares First Shot Of Production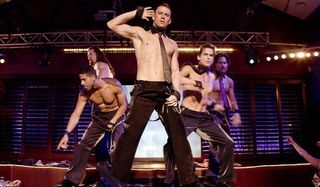 Magic Mike became a big hit and a cultural phenomenon when it was released back in 2012. As a result, it's achieved a rare thing for an indie flick: a sequel. Here comes Magic Mike XXL, which a secretive source reveals is officially in production. Via Twitter:
From this picture of the slate, we can glean a few clues about Magic Mike XXL. For one thing, there will be scenes set in Myrtle Beach, South Carolina. That's a shift north from the first film, as Magic Mike was shot on location in Tampa, Florida. The aerial shots of the location will likely be shot from the helicopter in the background. But most intriguing is the second unit shoot's camera operator, Peter Andrews. What makes Peter Andrews so interesting? Well, he's the owner of the Twitter handle @Bitchuation (which may be is a joke in the Magic Mike XXL script). But moreover, Peter Andrews is one of the pseudonyms employed by recently "retired" filmmaker Steven Soderbergh.
THR tipped the true identity of @Bitchuation/Peter Andrews, reporting that this wasn't some over-eager slate manner or assistant camera op who shared the first pic from the much anticipated sequel. It was Steven Soderbergh himself.
Following the massive success of Magic Mike, many film fans have speculated that there was no way its director Steven Soderbergh was serious about retiring. I mean, this was a monster hit. Not only one of the most talked about movies of the summer of 2012, Magic Mike was also a $7 million drama that pulled in more than $113 million at the domestic box office. While Side Effects followed along with the made-for-TV movie Behind The Candelabra, those close to Soderbergh insisted he meant it when he said he was done directing movies. Of course, then he helmed 20 episodes of the Cinemax series The Knick. Still, he would not direct Magic Mike XXL.
Instead, producer/star Channing Tatum and his producing partner/Magic Mike scribe brought in the next best thing, Gregory Jacobs, who had been Soderbegh's first assistant director on films like Side Effects, Behind the Candelabra and the Ocean's 12 series. Tatum said of the decision: "(Gregory Jacobs) worked as a producer on the [2012] movie and has been Steven's right-hand man for almost 25 movies." But as we reported last May, Soderbergh will be more than a mentor to this director. He'll also be his director of photography, camera operator and editor.
For now, all we know about the plot of Magic Mike XXL is that it will follow the continued journey of its titular stripper, played by Channing Tatum. Matt Bomer and Joe Manganiello are expected to reprise their roles as Ken and Big Dick Richie. Magic Mike XXL will bring some heat, and loads of lust to the summer of 2015, where it will open on July 1st.
Staff writer at CinemaBlend.
Your Daily Blend of Entertainment News
Thank you for signing up to CinemaBlend. You will receive a verification email shortly.
There was a problem. Please refresh the page and try again.