Mallrats 2 Is Bringing Back 3 More Characters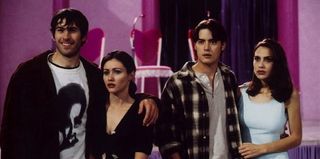 Kevin Smith's retirement from filmmaking has obviously been put on hold for the foreseeable future. In addition to new movies, he's revisiting the ones he cut his teeth on. Clerks 3 is happening, and now that Mallrats 2 is in the works, Smith is reuniting much of the cast, adding three more familiar faces.
Over the last few days, Smith has taken to social media to drop the news that Joey Lauren Adams, Sven-Ole Thorsen, and Renee Humphrey are all returning to the mall for more retail-based shenanigans. They play local gossip Gwen, junior Masters and Johnson Trish the Dish, and the contraband-planting security guard La Fours, respectively.
While none of these three are major characters in Smith's 1995 sophomore film, they are key parts of the world the writer/director has always sought to create. These three are just a few of the colorful personalities Smith uses to populate his films. They may not always be integral to the plot or have all that many scenes, but more often than not they're memorable in their quirks, have a tendency to feature quotable lines, and give the films a unique texture and feel that sets them apart. If Mallrats 2 hopes to capture some of the charm and energy of the first film, recreating this will go a long way towards that goal.
In the few weeks since Smith first started rattling his saber about Mallrats 2, he has already collected a number of original cast members. Perennial slackers Jay and Silent Bob (Jason Mewes and Kevin Smith himself) will be back, Michael Rooker's pretzel-loving Jared Svenning will show up, and Shannen Doherty is also on board to reprise her role as Rene. Jason Lee will return to his first-ever starring role as Brodie Bruce. Ethan Suplee and Jeremy London are also on board this train, as is Stan Lee, who we can only imagine will dispense some more sage advice (again, hopefully to the comic-obsessed Brodie).
There are still a handful of characters left to corral, and among those still to commit, we suspect you'll find names like Ben Affleck, though it's entirely possible his character is still in prison, and he's pretty busy with that whole "being Batman" thing. Claire Forlani is another we haven't heard about. She's more key to the story than Affleck, as you can bet we'll find out how being married to Jeremy London's T.S. Quint has treated her. But she also hasn't acted much in the last few years, and it's been said she isn't a huge fan of Mallrats.
We'll see how all of this comes together, but it's looking more and more like Kevin Smith is getting most of the band back together for Mallrats 2. But the real question is, will Pricilla Barnes' three-nippled psychic be back to give T.S. and Brodie more arousing life advice?
Your Daily Blend of Entertainment News
Your Daily Blend of Entertainment News
Thank you for signing up to CinemaBlend. You will receive a verification email shortly.
There was a problem. Please refresh the page and try again.