Many Parents Are Naming Their Daughters After One Specific Disney Character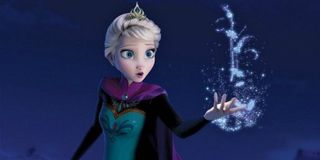 I imagine that it's very hard to pick out a name for your impending child. You want to have something that is profound, grandiose, and doesn't rhyme with any rude words. The latter is of upmost importance. Some familes scour a variety of sources to find their desired name, but it turns out that for many prospective parents, if their child is a girl, they'll just steal a name from Frozen.
According to The Sky Times this has been proven with the revelation that Elsa is now the 286th most popular name in the United States. Now, for all of you who follow these kind of things, you'll be shocked to learn that this is the first time that Elsa has appeared in the top 500 baby names since 1917 – 97 years ago.
The Social Security Administration confirmed that 1,131 girls were named Elsa in 2014. This is up 528 from the year before, and rather than this being because of a rise in popularity of the work of the famous American gossip columnist Elsa Maxwell, it's primarily a result of Disney's 2013 monster hit Frozen.
Of course, Frozen was the film that left kids everywhere asking if you wanted to build a snowman before they then immediately told you to let it go. Just in case you successfully managed to banish those songs from your memory, you can remind yourself of how insanely catchy "Let It Go" is below. Just click on it. You know you want too.
But Frozen's dominance didn't stop at one name. There aren't just hundreds more Elsas running around the USA, there are also more Olafs, Svens, Kristoffs, and Hans as well. The name Olaf went from nine to 22, while Kristoff rose from seven to 32. There are now 55 extra Svens, up from 33 in 2013, while even Hans, the villain from Frozen, saw a bump, as 132 boys were named after him in 2014.
The only name that didn't actually get bumped up any further was Anna, which was probably because that was already a very popular choice to begin with. I have to admit that I'm a little disappointed some Frozen fanatic out there didn't go all out and name their child after Grand Pabbie the Troll King. That would show true devotion.
With Frozen 2 planned for some point in the near future, we can expect each of these names to become a permanent fixture on this list for some time to come.
Your Daily Blend of Entertainment News