Mark Hamill Had An Unexpected Role At The Star Wars 7 Table Read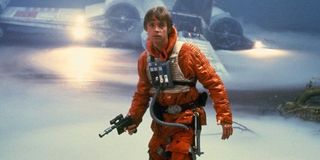 Warning: Spoilers for Star Wars: The Force Awakens are in play. If you haven't seen the movie yet, bookmark this article and come back later.
When the cast of Star Wars: The Force Awakens was announced, the now memorable photo of the cast and crew meeting together for a read-through was released to accompany the news of who would be returning / debuting in that galaxy far, far away. One obvious inclusion was Mark Hamill, whose Luke Skywalker appeared in the final moments of J.J. Abrams' sci-fi blockbuster, which makes us wonder why he was even at the reading in the first place. Well, we've got our answer today, as it turns out that Hamill was the official stage direction narrator at the big event.
In anticipation of Star Wars: The Force Awakens' Blu-ray and DVD release today, EW had the scoop on how Mark Hamill's presence in the "class photo" of the Episode VII cast turned into an unexpected gig for the legendary voice actor. J.J. Abrams explained his ultimate reasoning as follows:
Using the reliable vocal talents of Mark Hamill, Abrams had Star Wars: The Force Awakens' stage directions read by the man who's lent his golden pipes to various animated characters, most famously The Joker in Warner Bros' Batman: The Animated Series. Having that sort of gravitas bring to life the expansive script's locations and events, it was probably that much easier for the cast to imagine key scenes like Rey's knock-down, drag-out fight with Kylo Ren towards the end of the film. With Mark Hamill's trademark voice guiding the way, it'd be impossible to think of anyone else taking the job of narrator for any future Star Wars table reads, as he's a tough act to follow.
Despite his lack of dialogue in Star Wars: The Force Awakens, Mark Hamill's presence was felt through his participation in the early table read we saw pictured so long ago. In fact, it was felt so strongly that fans bought into the notion that Hamill would be a major player in the latest Star Wars sequel, completely unaware that J.J. Abrams' mystery box tactics of misdirection were in full effect. Lucky for us fans, there's going to be footage of this table read included on the Blu-ray release of the wildly successful sequel, so we'll get to see some of Hamill's voice-over work in action. It may not be a deleted scene involving a six-page monologue, explaining Luke's whereabouts for the past 30-plus years, but it's something.
Star Wars: The Force Awakens hits Blu-ray and DVD today. The eventual fan petition to release a version of the film with Mark Hamill's stage direction as a commentary track will probably hit by tomorrow.
We actually know a TON about Luke Skywalker's role in Star Wars: Episode 8, which is busy filming as we speak. Some of it is SPOILERY, so if you really want to know, click on to the next page.
Star Wars: The Force Awakens ended with Rey (Daisy Ridley) arriving on a remote island where Luke Skywalker (Mark Hamill) had been hiding the whole time. But is he actually hiding? Or is he protecting something?
Our Complete Guide To Luke Skywalker's Role In Episode VIII Has All Of The Answers You Need To Know, So Click Here Now!
That's not all, though:
- There's a NEW Luke image that comes with the Force Awakens Blu-ray.
- We think we know why Darth Vader wasn't in the Rogue One trailer.
- And Mark Hamill wants you to come see him on the set of the new Star Wars movie! Watch this video and find out how:
Senior Movies Contributor
CinemaBlend's James Bond (expert). Also versed in Large Scale Aggressors, time travel, and Guillermo del Toro. He fights for The User.
Your Daily Blend of Entertainment News
Thank you for signing up to CinemaBlend. You will receive a verification email shortly.
There was a problem. Please refresh the page and try again.