Mark Millar Ready to Kick More Ass with Kick-Ass 2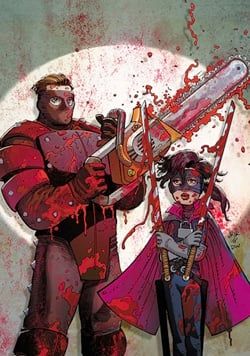 Hopefully you're not tired of the promotional material for the upcoming comic adaptation Kick-Ass, because it's not going to go away any time soon. CBR got a chance to sit down with the comic's creator Mark Millar and shoot the breeze about the 8-issue series, the film, and the future of the franchise.
The interview mostly focuses on a companion book to the series that will be released in February, two months before the wide release of the film, so you can bone up on your trivia before geeking out at a midnight showing. Among the 200 pages of storyboards, emails, and general hoopla designed to give you a seriously in-depth look at all things Kick-Ass, you might be interested to learn that the role of Big Daddy, played by Nic Cage, might have wound up being Mark Wahlberg or even James Bond himself, Daniel Craig. Nic Cage was the right call for the tone of the film, but this is the type of behind the scenes info you'll learn from the companion.
The big news comes towards the end of the interview though, where Millar reveals that not only is he going to do a follow up comic series (which inevitably will get the Hollywood treatment as well), but he's been sitting on the story for over two years now and is raring to go.
"We always saw this as at least a trilogy. There might even be more. I had the whole second series worked out two years ago."
Millar and series artist John Romita Jr. are hoping to debut the first issue of "Balls to the Wall" at next years Comic-Con, since they were received so well this year. They'll be looking to get that series out with fewer delays than the original had, and will getting a few episodes finished in order to speed up production. Kick-Ass is getting a wide release April 16 and will hopefully do well enough to warrant the sequel.
Your Daily Blend of Entertainment News
Thank you for signing up to CinemaBlend. You will receive a verification email shortly.
There was a problem. Please refresh the page and try again.