Marvel's Spider-Man May Be 16-Year-Old Mateus Ward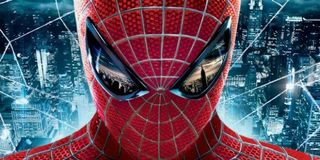 Despite all of the talk and speculation to the contrary, it appears that when we get our next big screen Spider-Man, it will in fact be Peter Parker. And as the web slinger prepares to make his first appearance in the Marvel Cinematic Universe, it sounds as though we'll also be looking at a younger version of the character, as the studio has reportedly auditioned 16-year-old actor Mateus Ward for the role.
According to Badass Digest, Ward, a teenage actor whose resume includes shows like Hostages, Murder in the First, and Weeds, has secretly read for the part of Peter Parker/Spider-Man in the Marvel Cinematic Universe. As you may have noticed, he's actually a few years younger than the likes of Dylan O'Brien, Sam Strike, and Freddie Highmore, all of whom have been mentioned in regards to the role, and are all in their early 20s. But Ward certainly fits into a similar aesthetic mold on which Marvel has set its sights, which does lend credence to this story.
You can get a look at the kid in a scene from Hostages below:
While we've seen high school Peter Parker before, the character has never really been played by an actor who is actually the proper age to play the part. Going a bit younger could add to the longevity of this incarnation of the character, and allow fans to watch Peter grow up in front of us. His youthful bravado and banter has always been a big part of the appeal of the character, and it'll feel that much more authentic coming from an honest-to-god teen.
Casting in this age bracket also provides the MCU with something it hasn't really had before: youth. All the other heroes are grown men (and Black Widow), and this creates an interesting dynamic to explore in that framework. The high school-age Spider-Man comes from such a different place than Iron Man, Thor, Captain America, or any of the others, and there is potential to do some interesting things contrasting him with his colleagues.
Now that Spidey is coming home to Marvel, they want to find the perfect person to fill out the red and blue spandex - but they're also under something of a time crunch. The character's first MCU appearance will reportedly be in Captain America: Civil War, and while that doesn't hit theaters until 2016, it starting filming rather soon. Most of us don't expect the webslinger to play a huge part in that movie, so they might be able to push casting off a little bit, but Marvel likes to have all their ducks in a row, so it seems likely that they'll decide on someone before too long. Whether or not they'll tell us, that's a different story.
I've seen Mateus Ward before, but to be honest, I'm not super familiar with what he can do, so I really have little opinion on this, aside from that I like the fact they appear to be going younger. We'll see if this pans out. What do you think of this potential casting?
Your Daily Blend of Entertainment News
Thank you for signing up to CinemaBlend. You will receive a verification email shortly.
There was a problem. Please refresh the page and try again.