The Big Reason Why Dylan O'Brien Probably Couldn't Play Spider-Man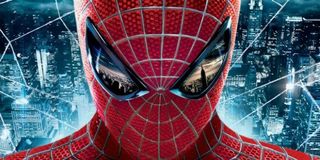 Ever since Spider-Man's upcoming Marvel and Sony collaboration was announced, and Andrew Garfield's departure was confirmed, a bevy of young actors have been linked to the superhero role. 23-year-old Dylan O'Brien is still believed to be one of the front-runners for the part, but it turns out that there's one big reason he probably won't be able to play the webbed-wonder: he's already busy filming Teen Wolf.
Dylan O'Brien has been portraying Stiles on Teen Wolf for the past four seasons. In fact he's currently doing the rounds promoting the upcoming new batch of episodes for the show. During his chat with Celebified O'Brien was asked the hypothetical question of if he was actually cast as Spider-Man would he be able to work on the blockbuster because of his Teen Wolf commitments? And those of you who thought that O'Brien would make a great new Peter Parker will be disappointed with his response.
While it's probably sensible that O'Brien has distanced himself from the role of Spider-Man we should probably take his remarks with a pinch of salt. That's because if Marvel/Sony really wanted O'Brien, and if he made it known that he pined for the part (which I'm guessing he'd do in a heartbeat), something would clearly be arranged so that he could appear in both Teen-Wolf and the new Spider-Man film.
Dylan O'Brien is many people's first choice for the new Spider-Man, especially if Marvel/Sony are looking to make their latest incarnation of Peter Parker (or whichever Spidey alter-ego they decide upon) younger than the Tobey Maguire and Andrew Garfield versions in Spider-Man and The Amazing Spider-Man, respectively.
O'Brien has already proven that he can handle the pressure of leading his own blockbuster franchise, as he played the lead role in 2014's The Maze Runner. In fact, the surprising success of The Maze Runner back in September (it grossed $340 million globally from a reported $34 million) garnered O'Brien the attention of Hollywood producers, and when it became clear that a new Spider-Man would be needed, his was one of the first names touted by fans.
Of course he wasn't the only actor to become entangled in the whirlwind of speculation regarding the superhero role but alongside Logan Lerman his name has repeatedly been brought up when the new Spider-Man is discussed. You can watch all of Dylan O'Brien's discussion with Celebified below.
We can expect the new Spider-Man to be announced sooner rather than latter, especially since the character is expected to make his debut in Marvel's franchise in 2016's Captain America: Civil War, which is due to start filming in just a couple of weeks time.
Your Daily Blend of Entertainment News
Your Daily Blend of Entertainment News
Thank you for signing up to CinemaBlend. You will receive a verification email shortly.
There was a problem. Please refresh the page and try again.