Matthew McConaughey Shows Off Amazing IMAX Footage In New Interstellar Spot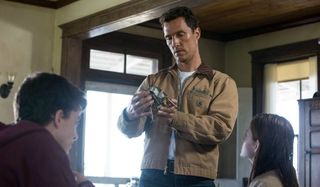 Social media erupted Monday night with disappointment and frustration over True Detective star Matthew McConaughey's loss to Breaking Bad's Bryan Cranston. I feel your pain, HBO supporters, but don't cry too long and too hard for McConaughey. After all, he still has that Oscar on his shelf for his outstanding work in the dramatic feature Dallas Buyers Club. And he appears to have an out-of-this-world hit on his radar for later this year – literally – in Christopher Nolan's Interstellar. It promises to be big. How big? IMAX big, as the latest TV spot reminds.
When it comes to pioneering visual advancements, Interstellar director Christopher Nolan leans deeply into the IMAX camp, and appears to ignore (completely) the use of 3D. I can't say that I blame him. There's real potential in 3D, but when used improperly, it is a thundering failure. IMAX, on the other hand, gives a filmmaker a much larger visual canvas on which to paint, and Interstellar looks like it wants to fill every crevice with incredible imagery of sci-fi wonder.
Video editor Steven Thomas placed this new clip on YouTube, setting the stage for Christopher Nolan's next epic. Matthew McConaughey plays Cooper, a one-time pilot and engineer whose unique skills aren't much help when our planet's food shortage runs dry. But when the government calls on Cooper for an expedition into the galaxies, he leaves his family behind for a wormhole-traveling adventure that might answer to the fate of humanity. It also allows Nolan to create striking images like this one:
Where are our astronauts in that image?! I'm going crazy with anticipation. But we won't know more until November. While we wait, Christopher Nolan has spoken at length about why he prefers IMAX, and to what extremes he's willing to push that technology to achieve the shots he needs in his features.
Come back to the theaters on November 7 to see if Christopher Nolan's Interstellar was able to immerse you in the unique IMAX experience.
Movie junkie. Infatuated with comic-book films. ReelBlend cohost. Resident dad. Extroverted introvert. Wants to see the Snyder Cut. Managing Director at CinemaBlend.
Your Daily Blend of Entertainment News
Thank you for signing up to CinemaBlend. You will receive a verification email shortly.
There was a problem. Please refresh the page and try again.